Robert Isabell: Flower King
The sudden death of legendary event organizer Robert Isabell shakes society.
---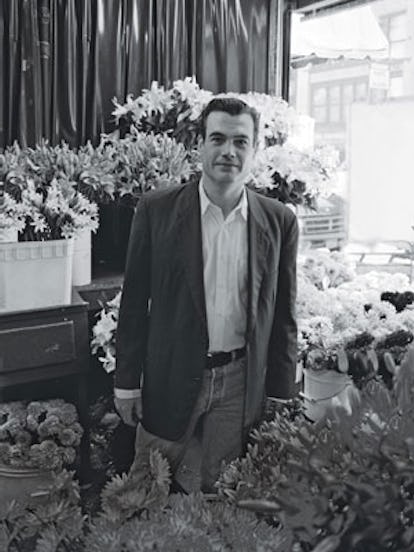 Before Robert Isabell came along, New York parties weren't truly Events. But he took entertaining to that next level. The tide had turned, surely, by August 1989, when, to celebrate the 50th birthday of Saul Steinberg, Isabell conjured up a 17th-century Flemish drinking hall inside a tent on the lawn of Steinberg's Quogue estate, featuring 10 tableaux vivants based on the financier's favorite Old Master paintings. The astonishing spectacle branded Nouvelle Society, and throughout the Nineties Isabell more or less had the party business locked up. Whether you were a king of Wall Street or Seventh Avenue, a duty-free heiress or an A-list charity queen, you had Isabell on your speed dial. Kennedys didn't get married, or buried, without him; the Clintons had him trim the White House Christmas tree.
Isabell's accomplishments were all the more remarkable considering he came out of nowhere—or, to be specific, Duluth, Minnesota. The son of a power-company lineman, he worked briefly as a florist in Minneapolis before making the jump to Manhattan in the late Seventies, when he was somewhere in his mid-20s. ("I've been lying too long about my age," he often admitted.) Steve Rubell plucked the handsome, dark-haired lad out of a line at Studio 54 and put him to work decorating the disco's nightly revels. After a brief stint running a flower shop out of Bergdorf Goodman, he opened his event planning business in the mid-Eighties.
Having risen to the top of his field, Isabell opted to pull back in recent years. He took on only jobs he wanted, which gave him time to pursue new interests, such as constructing a six-story commercial building on the site of his longtime atelier on far West 13th Street. But what occupied much of his time was what many considered a most unlikely friendship, with Rachel Lambert "Bunny" Mellon, 99, quite possibly the grandest lady alive in America. The daughter of a pharmaceuticals magnate and the widow of banking heir Paul Mellon, she is renowned for her exquisite taste, her horticultural skills and her mentoring of Jackie Kennedy, for whom she designed the Rose Garden at the White House.
The reclusive Mellon first met Isabell while advising Jackie on Caroline's wedding in 1986. (See sidebar.) In recent years the pair were practically inseparable. Isabell spent much of his time at Oak Spring, Mellon's 4,000-acre estate in Upperville, Virginia, or at her other homes in Paris and on Antigua and Cape Cod. So fashion designer Norma Kamali, another of Isabell's closest friends, knew something was wrong the Wednesday after the Fourth of July weekend, when she got a call from a worried Mellon. Isabell hadn't called her for a couple of days, and they usually spoke twice a day.
Her fears were realized when police, alerted by Isabell's office—who also knew something was amiss when billionaire Anne Cox Chambers reported from France that he had not arrived there as scheduled to consult on a party—entered his Greenwich Village town house and found him dead in bed, apparently the victim of a heart attack. He had last been seen Saturday night in the Hamptons, where he had arranged parties for Lally Weymouth and Jane Lauder. In accordance with his will, there was no funeral service, and Mellon planned to bury him at Oak Spring. He was 57.
Isabell with Caroline Kennedy.
My own acquaintance with Robert began in 1993 when I paid a visit to his office to persuade him to let us profile him in W. He played hard to get but agreed. Somehow I passed muster too, and we became friends. Robert moved in the most diverse circles, so one of the many delightful things about being his friend was that you didn't know what you would be getting into when he phoned and asked, always in the same very casual manner, what you were doing that evening, or, say, on New Year's Eve. A typical night was a marathon tour of the most outré nightspots in the Bronx, with Robert at the wheel of his vintage Dodge Charger. One particular New Year's, it was a trip to the White House, where he had asked me to escort him to the Clintons' Millennium Dinner. Here's what I adored­—and respected—about Robert: He was exactly the same on both outings, unpretentious, dry-humored and kind of shy.
With his close friends, Robert was funny and commanding, but in public he was reserved. At the fetes he staged, Robert was usually out the door as the guests arrived. If he did stay, he stuck to the sidelines, watching quietly. He never sat down to those banquets, the only exceptions I can recall being the Metropolitan Museum of Art's Costume Institute gala in 2001, for its Jacqueline Kennedy exhibition, to which he accompanied Mrs. Mellon, and the Millennium evening. Robert could be almost pathologically modest, but that night in D.C., when this boy from Duluth was among the American artists and creative people the president and first lady honored, it was hard for him to hide his pride.
In Greenwich Village, Isabell lived alone in a complex of houses he had joined and converted into a dark and glamorous private casbah. A self-styled "homeboy," he loved black and Hispanic street culture, which was wonderfully alive on the West Fourth Street basketball courts down the street from his house. He always enjoyed strolling past. A devoted New York Yankees fan, he was never so happy as when he was in his second-row box at the stadium, especially when Bernie Williams or Derek Jeter was at bat. He had a fascination with Mafia lore, and he never met a conspiracy theory he didn't like.
Isabell was a superb barometer of power and money. In the early Nineties, he talked incessantly about these people no one had heard of, a couple with three blond daughters who lived in the most magnificent town house just decorated at the greatest expense by Renzo Mongiardino. Within a couple of years, everyone knew the Miller sisters—the daughters of duty-free magnate Robert Miller—in no small degree because of the über extravagant wedding balls Isabell designed for them. (Marie-Chantal's $8 million Greek temple–theme party in London outdid them all.)
Far less elaborate were the seaside nuptials he planned for Caroline and, later, John Kennedy Jr. Comparatively simple affairs, I think they might have been the events he was most proud of. His saddest jobs were surely the funerals he did for Jackie and John, both of which he never spoke about, out of respect for the family.
Shy as he might have been as a guest at social events, he was Mussolini behind the scenes. "You have to be a dictator when running a party," he told The New York Times in 1996. "[I] go ahead and do what I want."
Flowers were integral, of course, but they were only one ingredient. He obsessed over the lighting, sound and floor plan. These elements often came together at the very last minute. "It was just like a curtain going up at a show," recalls Glorious Food boss Sean Driscoll, who frequently catered Isabell-designed affairs.
Although new clients, unfamiliar with the process, often had panic attacks, veterans knew the drill. "He would never actually tell you what you were getting," recalls Vogue editor in chief Anna Wintour, who worked with Isabell on countless events, including eight Costume Institute galas. "He wasn't an articulate person. He didn't do drawings. It was all in his head, but you learned to trust him."
Like Prospero breaking his wand, Isabell was probably surrendering his crown in 2005, when he gave up the Costume Institute job. "It was his call," says Wintour. "He didn't want to do the 7:30 a.m. meetings anymore. But there were no hard feelings. We remained friends."
Often traveling with Mellon, Isabell lost touch with some of his old friends, though he remained steadfast with his inner circle, which included Ian Schrager, Kamali and Cathy Graham, an artist who is married to Katharine Graham's son Stephen.
Still, Isabell continued to take on parties that interested him, even if they were on shoestring budgets. One notable example was Hulaween, the annual benefit for Bette Midler's New York Restoration Project, which creates green spaces throughout the city. Knowing that Midler, like Mellon, was a passionate environmentalist, he took her to Oak Spring a couple of years ago. "It was enchanting and moving to see them together," Midler recalls of the two friends. "They had a wonderful warmth between them, and this teasing rapport."
"Their connection had to do with nature, which they both loved," says Graham. "When you saw them together, they were just in complete harmony."
Isabell with Caroline Kennedy: Steven Eichner