SAG Awards 2017: Mahershala Ali Delivered a Personal and Powerful Acceptance Speech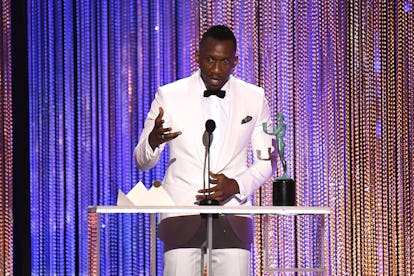 Kevork Djansezian/WireImage/Getty Images
The 2017 Screen Actors Guild Awards had two main through-lines: activism and representation. Mahershala Ali brilliantly epitomized both qualities on Sunday night when accepting his award for Best Male Actor in a Supporting Role.
Ali, who played Juan in Moonlight, delivered a personal and powerful speech that highlighted his religion (he converted to Islam) and subtly denounced President Donald Trump's executive order against Muslim immigrants by speaking about the dangerous consequences of persecution. He quietly urged others to accept people despite the "minutia," as his mother, a pastor, had after he converted.
Ali was just one of several celebrities, including Kerry Washington, Julia Louis-Dreyfus and Ashton Kutcher, who voiced their support for immigrants during the award show. In their own ways, they each reminded their fellow SAG members and the audience at home why it is so important to speak up when we see injustice happening.
Read his full speech, below:
Thank you. Thank you. Thank you. I think what I have learned from working on Moonlight*, is you see what happens in persecution.
What I was so grateful about in having the opportunity to play Juan, a gentleman who saw a young man folding into himself as a result of the persecution of his community, and taking that opportunity to uplift him and tell him he mattered, that he was okay. And accept him. I hope that we do a better job of that. When we kind of get caught up in the minutia, details that make us different, there's two ways of seeing that. There's an opportunity to see the texture of that person, the characteristics that make them unique and then there's the opportunity to go to war about it. To say "that person is different from me and I don't like you, so let's battle."
My mother is an ordained minister. I am a Muslim. She didn't do backflips when I called her and told her I converted 17 years ago. But I tell you now, we put things to the side, and I was able to see her. She is able to see me. We love each other. The love has grown, and that stuff's minutia. It's not that important. I want to thank Tarell Alvin McCraney for his courage. I want to thank Barry Jenkins. Just for your insight, brilliancy, direction, and the opportunity. I will always hold that close to me. I want to thank my fellow cast mates. Any one of those young men could be up here holding this. Beautiful work. Plan B, thank you.
Peace and blessings be upon you.*
Watch Mahershala Ali take W magazine's screen test: