Salma Hayek Is Now Counting Her White Hairs and Wrinkles On Instagram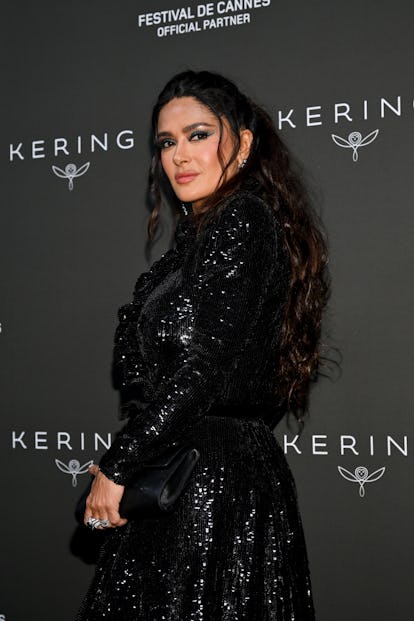 Michael Buckner/Variety/Getty Images
Salma Hayek's Instagram is a masterclass in living life to the fullest. Because while many celebrities with a status similar to the 56-year-old actress may tirelessly curate their feeds, Hayek uses the platform more as a spur-of-the-moment tool to express her thoughts.
Her followers have grown accustomed to a certain level of authenticity from Hayek, who showcases nearly everything—from her dancing skills (in spite of a wardrobe mishap) to beach snaps under a cave. And on Tuesday, she added another oracle-like message to her account which currently has over 24 million followers.
"Me waking up and counting how many white hairs and wrinkles have crashed the party this morning," she captioned a zoomed in selfie that obscured the bottom half of her face.
Though Hayek's skin looks pretty flawless to the eye, you'd be hard pressed to find another celebrity who would be so open about aging (or really, post a makeup-free selfie). Though, sometimes, stars like Tracee Ellis Ross, Julianne Moore, among others, will throw in a Hayek-adjacent, unfiltered post here and there.
Hayek's openness is nothing new and she has been upfront about the realities of aging in the past. "I thought getting older meant I wasn't going to work; I'm working," she told Glamour. "I thought getting older maybe meant that you're not in love anymore; I'm in love. I don't feel that I lost my flexibility or my agility or even my strength. I do have to say that I have found it beautiful, getting older with someone."
Yes, Hayek has embraced aging, but she looks years (arguably decades) younger than her actual age. In an interview with Elle, she gave a bit of insight into what gives her skin that signature glow and why she never needs botox or fillers.
"I use an ingredient called tepezcohuite that's used in Mexico for burn victims because it completely regenerates the skin, and there's no one in the States who is using this ingredient except for us," she explained. "Some of the ingredients, when I took them to the American labs, they were like 'Oh my god! How come nobody is using this?'"
The actress, who recently appeared in Magic Mike's Last Dance alongside Channing Tatum, is set to star in a, well, more dystopic setting later this month. She will play herself in an upcoming episode from Black Mirror's sixth season.