Salma Hayek Dances In Her Bathrobe To Celebrate An Instagram Milestone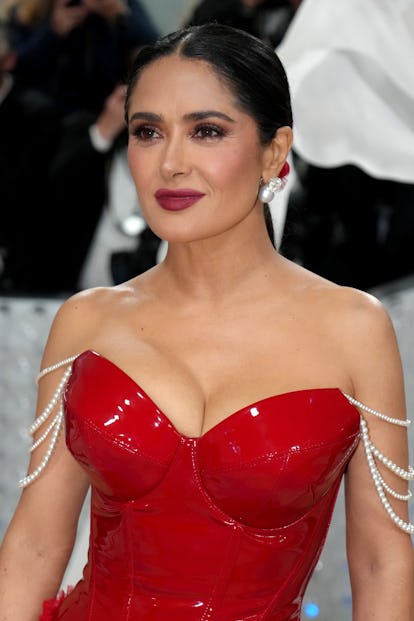 Jeff Kravitz/FilmMagic/Getty Images
Salma Hayek certainly got the "let's not take Instagram so seriously" memo. Her bio is merely two rows of mismatched emojis and her carefree posts are a reminder to enjoy the little, and random, things in life. From to a snap with a shirtless Channing Tatum titled "Those of us who didn't work out daily, kept their clothes on" to a video of her doing backflips on a trampoline in the mountains—its no surprise that the actress has reached the milestone of 24 million followers on the platform.
To celebrate the occasion, Hayek took to the platform like she does best—posting a short clip dancing in a robe surrounded by her glam squad. About half way through the video, Hayek's robe experiences a slight wardrobe malfunction (which she blurred out). Unsurprisingly, the star was not phased by the slip and continued to dance with her team.
"24 million followers, 24 million reasons to smile Thank you all for joining me on this wild ride!," she captioned the post, which has nearly one million likes.
Most recently, the 56-year-old actress starred in Magic Mike's Last Dance alongside Tatum and attended the Met Gala in a red Gucci ensemble earlier this month alongside husband and CEO of Kering François-Henri Pinault.
Hayek has also been upfront about the beauty of aging: "I thought getting older meant I wasn't going to work; I'm working," she said in an interview to Glamour. "I thought getting older maybe meant that you're not in love anymore; I'm in love. I don't feel that I lost my flexibility or my agility or even my strength. I do have to say that I have found it beautiful, getting older with someone."