Sarah Snook Reveals Her Pregnancy at the Succession Premiere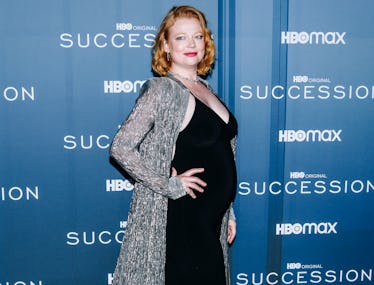 Nina Westervelt/Variety/Getty Images
Congratulations are in order for Sarah Snook. The actress is pregnant with her first child, and revealed the news at the premiere of Succession season four on Monday night. Snook joined the rest of her cast mates at Lincoln Center in NYC to celebrate the HBO show's final season, showing off her growing baby bump in the process.
Snook highlighted her belly in a simple black, sleeveless jumpsuit, which she topped with an unbuttoned silver shirtdress. "It's exciting," the Australian actress told Entertainment Tonight of her pregnancy on the red carpet. "I feel great."
Snook is currently 32 weeks along and due in mid-May, meaning she was pregnant while filming Succession, though she wasn't far enough along for it to be an issue. "You couldn't tell," she said. "It's not super big at the moment still."
This will be Snook's first child with her husband, Australian comedian Dave Lawson. The pair tied the knot in a backyard wedding in Brooklyn back in February 2021, though the pair has known each other for quite a bit longer. "We've been friends since 2014, lived together, traveled together, always excited to see each other, but totally platonic," she told Vogue Australia in October 2021. It wasn't until they ended up in locked down in Melbourne together that sparks flew. "We fell in love," she said.
Lawson joined Snook on the red carpet on Monday night, meaning the actress had both her real husband and her TV husband by her side as Matthew Macfadyen was in attendance as well. Of course, the entire Roy family was at the event, and Snook snapped some pics with her fictional brothers, Alan Ruck, Jeremy Strong, and Kieran Culkin, as well as their faux father, Brian Cox. While on the red carpet, Snook joked that when it comes to being a mom, she has learned "what not to do" from the show. "I don't know if the Roy family are a paragon of family values," she told Extra. "I don't think we could be looking up to them for guidance."
Snook recently opened up about learning Succession would come to an end with its fourth season at the show's final table read in January. "I was very upset," she told The Los Angeles Times. "I felt a huge sense of loss, disappointment and sadness. It would have been nice to know at the beginning of the season, but I also understand not being told until the end because there was still a potential that maybe this wasn't going to be the end." She continued, saying, "Emotionally, all of us weren't necessarily ready to be done with the show because we love each other so much. But everything has to come to an end, and it's smart not to let something become a parody of itself." That being said, it did take Snook awhile to accept the end. "I think emotionally...I wasn't [ready] before, but I am now," she said. "I've got other things to go on to. There are more pressing matters right now."