With Earth Mama, Former Olympian Savanah Leaf Scores Big at Sundance
The up-and-coming director thinks more athletes should get into filmmaking.
---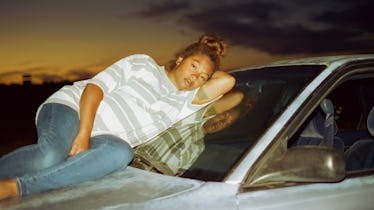 Sundance
If anyone has the grit to forge their own entry into the notoriously exclusive world of movie making, it's an Olympian. Savanah Leaf, a London-born, California-raised volleyball player, competed in the 2012 Olympics for host country Great Britain and found in the years following that her talents stretched far past the realm of athletics. After getting her start via directing music videos (and excelling, at that—her video for Gary Clark Jr.'s "This Land" earned a Grammy nomination in 2020), Leaf made her feature directorial debut at the Sundance Film Festival this year with the A24 production Earth Mama. Tense yet tender and intimately shot, the film is a fitting addition to the studio's oeuvre and likely to stir the hearts of viewers.
It's an expanded, fictionalized version of The Heart Still Hums, the 2020 documentary short Leaf made with friend Taylor Russell (who most recently starred opposite Timothée Chalamet in Bones & All). In black and white, the short chronicles the lives of five mothers fighting the forces stacked against them—homelessness, addiction, neglect from their own parents—to give their children better lives. The project was personal for both directors: Leaf's family adopted her sister through the foster care system and Russell grew up with foster siblings.
In the film, which is set in Leaf's native Bay Area, newcomer Tia Nomore plays Gia, a young mom of two nearing the end of her pregnancy with a third child, who is on a mission to regain custody of her kids from the state. Beaten back by the ever-multiplying obstacles endemic to the system, she's running in place. The events of Leaf's own life as well as research gathered throughout production of the short helped guide her script for Earth Mama. Leaf spoke with W about weaving her life experiences into the movie, casting the right balance of unknowns and familiar faces, and why athletes are particularly well-suited to pivot into filmmaking.
Can you talk us through your path from competing as an Olympian to directing?
I was a full-blown athlete. Even in my summers, I played internationally, so I was a "no breaks" athlete. After college I went to the pros pretty quickly, but at the same time I was thinking about what happens next, after sports. Everyone had only ever thought of me as an athlete. When I got injured playing professionally in Puerto Rico, I had to reevaluate. I had an interest in photography, so I took a crash course in music video production and was running around to different production companies, handing them a resume with only sports on it, in person. [laughs] At one of them someone was impressed with my work ethic, so I started the next day in a sales rep role. That experience taught me about the industry. I was given this window into their world, and that was the first moment I realized I could direct, that directing could be a career. I eventually left that job, started directing my own stuff, and it's built over time.
Are there any transferable skills that carry over from your career as an athlete to filmmaking?
Definitely, you're still working in a team environment. You're not doing every single job; you're encouraging people to do the best that they can. As a captain on a team—I'm going to throw some volleyball terms out—you have your setter, your defensive specialist or your libero, and I wouldn't be able to do what those positions are doing. But they're important, and I know my role. If they're not doing great, you push them, and sometimes they push you. That team environment where you're checking each other all the time, and sometimes taking risks that are uncomfortable to see how things play out, is very similar to filmmaking. So many times in talking to other filmmakers, I hear that they have a bit of a sports background. I think more athletes should genuinely get into film.
What qualities were you looking for while casting Gia, the lead role in Earth Mama?
It's a difficult role that takes a lot on your body, so [the actor is] not only emotionally going through these waves while not saying much a lot of the time, but also carrying a prosthetic belly the whole film, so it had to be someone dedicated. I thought it was important that Gia was played by somebody with some sort of connection to being pregnant, and Tia had just recently had a child within the past year of filming. The physicality of it, we needed to know they're carrying their weight in the same way a pregnant mother might.
We were looking everywhere from London to New York, but we knew that [casting a Bay Area native] would give us an extra edge, because the Bay has a slight way of speaking and carrying yourself. Tia had all of those things. On top of that, she was training to be a doula, which is an even greater connection to the film. She blew us away with her audition and all those things combined made it feel like she was the right person for this.
Did you set out to cast an unknown actor for the role?
No, I was open to anything. I was meeting very experienced actors and people that weren't even performers. I liked so many people, but Tia was perfect. It's especially exciting that she's an unknown talent in the world of film because it makes you see the world without seeing the actor. That goes for everybody in the film; even someone like Erika Alexander, who we all know. She doesn't overpower the film. Same with Dominic Fike. He's someone a lot of us know, but it's not "the Dominic Fike show" or "the Erika Alexander show." They signed up to be in the world, and I'm very grateful for that. It would be a different movie had they expected to be this huge person in the forefront. They wanted to support and do that in the best way they could.
Rapper Doechii also makes her acting debut in Earth Mama with a supporting role as Gia's best friend. How did that come to be?
Doechii stood out because she came to New York, which I wasn't expecting. A lot of people were sending in tapes and it's a big difference to feel somebody in space. Despite making an album and dropping all this stuff—she's so busy—she put an extra effort into this film. She's naturally hilarious, which was an important part of that role. It has to be the best friend that's a little bit out of pocket, makes the jokes when they're not supposed to, preaches and then counters that. Even beyond the film, she's the funny friend that all of us need to lighten the mood through the horrendous obstacles that we face.
Gia dissociates into the woods in these dreamlike scenes throughout the film. Could you speak to your intentions with those scenes and the role of nature in this film?
A big thing for me was showing Gia's inner life. I often have this guard on me where I don't want to show people my emotions, so I go internal. That's like Gia. This is up to everybody receiving the film as well, but in a way, going into nature is a way of connecting to her bloodline, her ancestry, her mother, her mother's mother. Black women have been mothers not only to ourselves, but to other people as well. We are like the mothers of all mothers, in a way. So it's connecting to that idea, and it's her place of escape.
Are there any parts of Earth Mama largely informed by your personal experiences?
Basically all the relationships. I think the research [through making The Heart Still Hums] really grounded it in the language of court cases and the formalities, but the relationships between Gia and her friends are like those I had with friends when I was younger, or as a teenager growing up in the Bay Area. There is a scene in a restaurant toward the middle of the film inspired by me meeting my sister's birth mom for the first time. That was a really pivotal moment for me.
Looking ahead, what other stories would you like to tell? Or is there another field entirely you're looking to conquer next—astronaut? Fashion designer?
[Laughs] That'd be dope to be an astronaut! No, I definitely think I'm staying in this lane. I want to keep telling the stories I was hoping to watch when I was younger. There are so many incredible filmmakers, specifically, Black filmmakers, making Black films that excite me. I just want to do that in a way that emotionally resonates with who I was as a kid, who I was as a teenager, who I am today. That's the goal: to create a voice that feels emotionally resonant for women, and Black mothers, and Black women, and maybe even athletes!