Selena Gomez Defends Hailey Bieber Against Death Threats: "This Isn't What I Stand For"
The actress says the model reached out to her amid relentless bullying.
---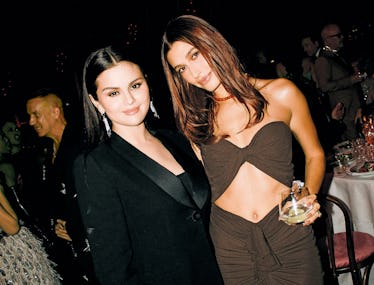 Courtesy of Tyrell Hampton & Academy Museum of Motion Pictures, 2nd Annual Gala, Presented by Rolex.
Selena Gomez is done mincing words. On Friday morning, the actress took to Instagram to speak to her fans, asking for all the hate that has been directed at Hailey Bieber in the name of Gomez over the past month (and for years prior, if we're being honest) to stop. On a simple Instagram story with a black backdrop and white lettering, Gomez revealed that Bieber reached out to inform Gomez that she'd "been receiving death threats and such hateful negativity."
"This isn't what I stand for," Gomez wrote. "No one should have to experience hate or bullying. I've always advocated for kindness and really want this all to stop."
This current batch of drama (because again, this has happened many times before) began last month after many suspected that Bieber and Kylie Jenner were making fun of Gomez on Instagram. Jenner denied that she was throwing "shade" at Gomez. "U guys are making something out of nothing," she wrote on TikTok. "This is silly," Gomez herself chimed in, agreeing with Jenner and adding, "It's all unnecessary. I'm a fan of Kylie."
But just a day later, and Gomez commented on a TikTok featuring an old video of Bieber seemingly mocking Gomez's good friend, Taylor Swift. "So sorry, my best friend is and continues to be one of the best in the game," Gomez wrote on the video, which labeled Bieber as a "mean girl" and "bully."
The two incidents riled Gomez fans up, and they began attacking Bieber (as well as Jenner) across social media platforms. Gomez did try to call off the angry mob earlier this month. "Please, please be kinder and consider others mental health," she commented on one of her TikTok videos. "My heart has been heavy, and I only want good for everyone. All my love." Unfortunately, that didn't seem to be enough, and now the actress is doubling down on her demand to fans.
Bieber has spoken about the hate that she has received in the past, most recently on an episode of the podcast, Call Her Daddy. It was there that Bieber also revealed that she and Gomez have been in contact since her 2018 wedding to Justin Bieber. "It's all respect, it's all love," Bieber said of her relationship with Gomez. "It's also why I feel like if everybody on our side knows what happened, and we're good and we could walk away with clarity and respect, then that's fine. Which had brought me a lot of peace, and I'm like, 'Hey, we know what happened. It is what it is." Bieber continued, saying, "You're never going to be able to correct every narrative, and there's going to be new ones that come [from this interview]. It's never going to end, and that's why I get to the point where like, that's why I didn't speak about a lot of this stuff because I'm like, there will be something new." Unfortunately, it seems like she was very right about that.