The Highs and Lows of Selena Gomez's Week on Social Media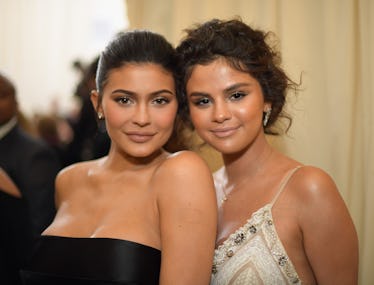 Matt Winkelmeyer/MG18/Getty Images Entertainment/Getty Images
Selena Gomez and social media have had a tumultuous relationship since the very beginning. Instagram, Twitter, even TikTok all embraced the actress from the start, with her fans taking over each platform seamlessly and supporting her every project, comment, and post. On Instagram, specifically, Gomez has long been one of the most followed, but around 2018, she decided she had to take a step back. For over four years, her team ran her account and she didn't even have the log-in info. "It has changed my life completely," she told Good Morning America back in April 2022. "I am happier, I am more present, I connect more with people." Since then, though, Gomez has logged back on, and it hasn't always provided the most positive experience. This week, especially, the actress has had an eventful time on Instagram and TikTok, filled with highs, lows, and everything in between. Let's break it down.
Low: Drama with Kylie Jenner
The two dueling queens of Instagram (we'll get more into that in a bit) came head to head on Wednesday when fans began conflating their various social media posts. Basically, Gomez posted on TikTok to show off her eyebrows, sharing that she accidentally over-laminated them. Just a few hours later, and Jenner took to Instagram and shared a selfie with the caption, "this was an accident?" right on top of her own brows. She then followed that pic up with a screenshot of her FaceTiming Hailey Bieber, with the two of them just showing their—you guessed it—eyebrows. Many thought Jenner, as well as Bieber, were making fun of Gomez's video. It was a reach from the start, but the Internet is constantly looking for a ways to pit Bieber and Gomez against each other. So, one TikToker decided to share her own theory—that Bieber and Jenner were, in fact, mocking Gomez.
"I do believe Kylie Jenner posted these stories about Selena Gomez," @devotedly.yours said on TikTok. "One hundred percent I am not reaching. In my opinion, they are shading Selena Gomez and this is very very very childish."
That's when Jenner stepped in to defuse the situation. "This is reaching," she commented on the video. "No shade toward Selena ever and I didn't see her eyebrow post! U guys are making something out of nothing. This is silly." Gomez backed up Jenner, making it clear that she didn't think there was anything malicious about Jenner's photos. "Agreed @kyliejenner," she wrote. "It's all unnecessary. I'm a fan of Kylie."
High: Dethroning King Kylie
It's important to note that all of this went down the same day Gomez surpassed Jenner to become the number one most followed woman on Instagram. At the time of this story's publication, Gomez has approximately 381 million followers, while Jenner trails behind with about 380 million. Gomez seemingly celebrated the milestone with a cute pic. "I deleted this one time because I thought maybe it was too much but eh," she said, clearly feeling the power of being the most followed.
And while she may now be the third most followed person in the world (behind only Cristiano Ronadlo and Lionel Messi), she still doesn't even have Instagram on her phone. She's not on a social media hiatus anymore, but Gomez revealed to Vanity Fair earlier this month that the only social media app on her phone at the minute is TikTok because she finds it "a little less hostile." When she wants to post something on Instagram, she sends it to her assistant, who filters out the bad comments when sharing news from the app with her. "As far as comments, my team will put together a few things that are encouraging," she said.
Could Go Either Way: Cosplaying as Bella Hadid
This one is neither a high nor a low, it just happened, and considering Gomez is as famous as she is, it was enough to make headlines. Basically, earlier this week, Gomez posted a video on TikTok, lip-synching to the popular "My name is Bella Hadid" sound. She followed that up with her own version, saying, "My name is Selena Gomez," claiming her name "doesn't even sound sexy." The posts were also combined with a photo Gomez posted of Hadid on her Instagram story with the simple caption, "#girlcrush."
It was all pretty harmless, but it still caused some to speak out, like Lady Gaga who commented on the video, "You look and are beautiful inside and out one of my favorite ladies alive!"
A Low in the Making: Starting stuff with Hailey Bieber
Now, the week is winding down, and just when you thought Gomez would make it to the weekend without any sticky social media loose ends, she got back into TikTok comments. According to the entertainment news Twitter account, PopCrave, Gomez commented on an old video of Bieber back from her days as the host of the lip sync competition show Drop the Mic. In the clip, Bieber's cohost, Method Man, mentions a "one on one rap battle full of the meanest lyrics about a celebrity since Taylor Swift's last album." Upon hearing Swift's name, Bieber makes a throwing up gesture. "This is [the] real Hailey Bieber," the caption of the video read, calling her a "mean girl" and "bully." Gomez allegedly commented on the TikTok, "So sorry, my best friend is and continues to be one of the best in the game."
Now, Gomez was likely just defending her friend, Swift, but come on Selena, you have to know that this is going to start something. The media is hungry for any headline about Gomez throwing shade at Bieber or the other way around (we are not exempt). She almost got through the week and ended on the high of her new Most Followed title, but now, the drama press circuit is going to get worked up all over again.
A Low That Will Likely Turn Into a High: Taking a break from social media
Of course, not long after Gomez commented on the TikTok, it became worldwide news, and now, Gomez is seemingly ready to ditch the last form of social media she actually enjoyed. On Thursday, the actress went live on TikTok to announce she's taking a break from social media. "I'm going to be taking a second from social media 'cause this is a little silly and I'm 30," she said. "I'm too old for this."
While Gomez didn't cite any of the drama she's been embroiled in throughout the past week as her reason for leaving, it seems like the comment on the Bieber video was probably the last straw. And while she might be leaving social media on a low, her time apart will likely turn into a high in regards to her mental health.