Everything We Know About And Just Like That..., the Sex and the City Reboot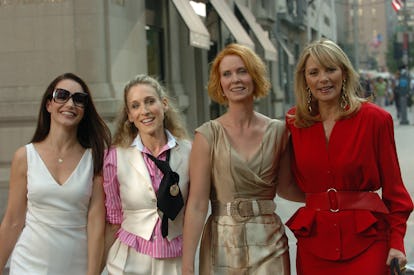 Richard Corkery/NY Daily News Archive via Getty Images
Few American television series have remained as relevant as the cultural touchstone that is Sex and the City. Trying to figure out which of the main characters you most identify with is still a common pastime, and real ones know that the original HBO show is canon and the first film is an acceptable addition, but most agree the sequel movie is an offensive abomination that should probably never be screened again and altogether forgotten. (Though, if you must be a media consumption purist, go ahead and try to get through it.)
But TV Line and the New York Post speculated in December that HBO Max has decided they might as well keep things moving with a seventh season of Sex and the City and by early 2021, HBO Max confirmed that there is indeed more to the story. We've compiled everything you need to know about this reboot, here.
Who will return?
In this limited series update, Sarah Jessica Parker, Kristin Davis and Cynthia Nixon would return as Carrie, Charlotte, and Miranda. However, Kim Cattrall, who played Samantha in the original series and subsequent films, will not join the revival.
As for the love interests, fans should be happy. Big is back. Aidan is back. Steve? Well, he's back, too. Per a "senior production source" at HBO Max, those three boyfriends will make a return for the revival.
In the battle of Carrie's exes, it seems that Aidan Shaw should win, so his return is huge news for anyone who has built a romantic fantasy off of the idea of having a meet cute with a carpenter at a furniture show room. John Corbett made it official by telling Page Six in April, "I'm going to do the show."
The last time Carrie saw Aidan, she was vacationing in Abu Dhabi (we don't want to talk about it) and he was married with three kids. Only time will tell how he might factor into Carrie's life now, but the actor hinted at being in "quite a few" episodes.
Chris Noth, on the other hand, took his time playing coy about whether or not we'd see him return. It was reported in February by Page Six that Mr. Big would not make an appearance, but a few days later, ET suggested he might. Now, we know for sure that John James Preston will be coming back—but hopefully not to wreak any more havoc on Carrie's love life.
David Eigenberg, who plays Miranda's husband Steve Brady, has also confirmed he'll be involved will make an appearance, remains to be seen. We had to imagine Steve and Miranda's son Brady Hobbes would pop up at least once, and thanks to recent paparazzi photos taken on set, it appears he is all grown up at around 20 years old. It's not clear whether or not the character will be played by the same actor, Joseph Pupo, who played Brady in the films.
Harry Rosenblatt, Charlotte's husband, will return as well, as HBO Max has also confirmed that Evan Handler, who plays Harry, is back. Harry and Charlotte's daughters Lily (who, if you remember from the first movie, nearly destroyed Carrie's marriage to Big by hiding Carrie's phone when he called to apologize) and Rose (who arrived on the scene just as Charlotte was cursing the day Big was born) are also in the revival, now as teenagers, and it seems that Lily really takes after her mother's love of florals. Paparazzi photos reveal the family gathering in front of the Manhattan School of Music, and the fan theories are already swirling.
We'll even see Stanford Blatch (Willie Garson) and Anthony Marentino (Mario Cantone) in the revival, though after the news of Garson's sudden passing, it is unclear if his character will eventually be written out of the show. Last time we checked, Carrie and Charlotte's two gay best friends and former nemeses had buried the hatchet and gotten married in a ceremony officiated by none other than Liza Minnelli (and seared into our memory with the crooner's performance of "Single Ladies"). Maybe things open up, maybe they stay the same, but in this revival, we don't know where their marriage will go just yet.
There is no news yet, though, on whether Samantha's paramour, Smith Jerrod (played by Jason Lewis), will be back, but if Samantha won't be there, there may be no reason for him to return. At least there's always room for a flashback sequence.
Are There Any Cast Photos Yet?
Yes, on July 9th, HBO Max dropped the first on-set photos from the new series. The three returning main characters are just as fashionable as ever. Miranda has, appropriately, leaned into her grey hair and is a fan of the wide-legged trouser trend. Charlotte is still classic with her Lady Dior bag. Carrie? Well, she's still got her thing for eye-catching shoes too.
Is it a reboot or a new show?
Well, it depends on how you look at it. Parker shared the announcement video on Instagram, in which the (presumably Covid-less) city hustle and bustle is on display with Carrie's narration, alongside the words "And just like that…" appearing on a computer screen. According to IMDb and HBO Max, And Just Like That... is the title. We're getting 10 half-hour episodes, and production starts soon. It's possible that it could appear on HBO Max by the end of the year, though no official release date has been set yet.
Nixon and Davis also shared the teaser on their respective social media accounts (with Cattrall noticeably not tagged in any of the posts), and Parker tweeted that where things pick up will be "exceeding all expectations."
Where does the story begin?
Parker spoke a little bit further about And Just Like That... in February, revealing details to Alina Cho, at the Central Park Conservancy's Inaugural Playground Partners Galentine's Celebration, that if everyone can get vaccinated in time, production on the series would start spring 2021. Parker also revealed that the reboot had not been introduced as an idea until the "early days" of the pandemic in April. She was listening to a podcast when she realized that she and show runner Michael Patrick King had never really spoken publicly about their experience producing Sex and the City, and initially thought they might record a podcast about the process. But then, the two decided it was time for a full reboot instead, now that Miranda and Charlotte are mothers of teenagers, and one could imagine Carrie might be dealing with social media now as part of her writing career.
"I think a lot of it was because this city was experiencing something so unimaginable, so unique. And every city and every community in every city had its own story and their own singular experience of the pandemic," Parker told Cho. "New York shut down in a way that also affects lots of other people, because it's the center of finance, it's the center of culture, one could argue. So its silence was deafening. And I kept thinking, 'Where are these women? Where are they? Can they find one another? Can they be together? What is their life like?' And as the political climate and the social climate started changing, in terms of calls for justice and racial equality, all these conversations were becoming a huge part of our experience inside of our homes, Michael and I just became really interested. And thus was born And Just Like That..."
What on earth are they going to do about Samantha?
On social media, everyone couldn't help but wonder what on earth happens to Samantha in this revival of the series. Will the first scene open with her funeral or will they just recast her? Could this possibly work if there is no Samantha Jones?
We knew this would happen, though, to some degree. In fact, Candace Bushnell, author of the original source material that the television series is based upon, wrote a spiritual follow-up book in 2019 called Is There Still Sex in the City? This sequel book ostensibly focuses on life after 50, though with different character, which includes getting divorced, having children, and aging. The author quickly sold the book's rights to Paramount Television.
There had also been talk of a third film, in which Big would die from a heart attack, and Cattrall had openly refused to participate due to a salary disparity. However, many speculate her departure was really a result of the years-long feud between her and Parker, who, for what it's worth, remains adamant that the two were never in a fight, and in 2018, insisted she couldn't imagine working on a sequel film without Cattrall, and what good is a Sex and the City sequel without Samantha, anyway? In reality, it was the film's "bad script" that sent Cattrall packing—plans for Samantha allegedly included sexting with Miranda's teenage son, Brady.
Surely, fans of the original series are curious about what Carrie, Charlotte, Miranda, and Samantha are up to in this decade. And some series reboots at HBO Max, like Gossip Girl, are shaping up to be quite promising. But why bother rebooting this particular series when we already have Instagram bibles like @everyoutfitonsatc dedicated to the subject, and there's no chance of seeing Samantha in a revival?
A cursory social media search will show that it's probably safe to say fans don't want a revival, but perhaps Twitter user @CeciaATL said it best when she tweeted, "This won't work due to the fact that we're all grown women now so nobody identifies with anybody except Samantha."
But the producers at HBO Max have spoken, and Samantha will not be killed off the series, though her absence will be addressed in the first episode. It also seems that they are attempting to rectify some of the more problematic aspects of the original series by replacing Samantha with three women of color.
Are there any new characters?
There are three women taking Samantha's place. HBO chief content officer Casey Bloys told TV Line that the decision came from Parker and King, who were "very, very conscious about understanding that New York has to reflect the way New York looks today" and "didn't want to tell a story with all-white writers or an all-white cast."
The three women cast in these roles are: Sarita Choudhury, Nicole Ari Parker, and Karen Pittman. Production is well underway with most of the original cast, but this trio should be making their way in front of the camera any day now. Choudhury will take on the role of Seema Patel, a real estate broker in Manhattan, Parker will be a documentarian (and busy mom with three kids) Lisa Todd Wexley, and Pittman takes on the role of Dr. Nya Wallace, a Columbia Law School professor. There's no telling just yet how these characters meet Carrie, Charlotte, and Miranda in And Just Like That... but if we had to guess: maybe Carrie meets Seema while looking for a new apartment, Lisa and Charlotte might vibe over the fact that they're both Park Avenue moms, and perhaps Dr. Wallace attempts to get Miranda, a practicing attorney, to teach a class in law school.
Additionally, Sara Ramírez joins the cast as Che Diaz, a non-binary comedian who hosts a podcast. Carrie becomes a regular guest on the pod, where Che wields their "outrageous sense of humor and progressive, human overview of gender roles [that] has made them and their podcast very popular."
Who's designing the costumes?
Sex and the City became synonymous with adjectives like "fabulous" and "stylish" in the early Aughts. That was thanks to Patricia Field, the show's costume designer, who fueled Carrie's Manolo Blahnik habit. However, it was reported by Page Six that Field will not return for And Just Like That..., and will instead stay on staff at Darren Star's second season of Emily in Paris and Leigh Davenport's Run the World. Stylist Molly Rogers will jump in her place.
When will we finally be able to watch it?
According to HBO Max, the first episode of And Just Like That... will air in December. However, there's no official premiere date just yet.
This article will be updated as more information is made available.
Related: Candace Bushnell Has Had Enough of Talking About Carrie Bradshaw
This article was originally published on