Sian Clifford Is Living Out Her Sitcom Fangirl Dreams
The Fleabag actress talks Substack, reuniting with Phoebe Waller-Bridge for a new project, and her new Netflix show, Unstable.
---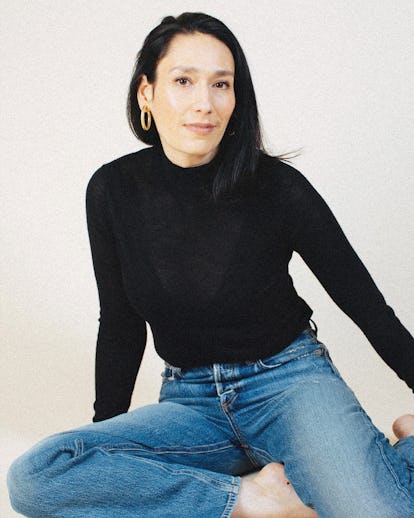 Photograph by Catie Laffoon
Halfway through our Zoom interview, Sian Clifford realizes her camera has been off the entire time. "Oh my god, you've been staring at nothing," she says with real concern in her voice. Suddenly, the high cheekbones, angular face, and jet-black hair of Fleabag's Claire appear on my screen. Clifford, the actress who portrayed Phoebe Waller-Bridge's uptight sister in the hit BBC show, possesses a true nature that stands in stark contrast to her character: she's warm, upbeat, and excited, gesticulating effusively when she speaks.
The UK native's latest project—a new Netflix series called Unstable starring Rob Lowe, Alison Becker, and Fred Armisen—sees her genial personality turned askew once more. In Unstable, which hits the streamer March 30, Clifford plays Anna, a British expat working as the chief financial officer to Lowe's Elon Muskian Ellis Dragon. Aside from her dizzying list of daily tasks, she's also trying to get Dragon to reconnect with his son, Jackson, played by Rob's actual son, John Owen Lowe. At first, it seems that Anna is the calm amid the quirky storm that is Unstable, but it soon is revealed that she too is just as zany as the rest of them. For Clifford, a lover of Parks and Recreation and Friends, working on what she calls an "unapologetically out-and-out sitcom" was a dream come true. Below, the actress discusses acting alongside the comedians she's admired since her youth, how she found inner peace through Substack, and her plans to work with Waller-Bridge again (yup, it's happening).
Is it true the Unstable role was offered directly to you?
It was, subject to a chemistry read with Rob [Lowe] and Johnny [Lowe]. Within two days of hearing about the job, I was on a Zoom with Rob and [Unstable's creator] Victor Fresco, just discussing the project, and we hit it off immediately.
You're a big fan of Rob Lowe, aren't you?
I've been a huge, huge fan of Rob's for a long time. I mean, my god, he's been famous as long as I've been alive. I'm a genuine fanatic of Parks and Recreation. I think I've seen it all the way through at least 15 times. It's the thing I put on at the end of the day; I find it comforting.
Is it true you had a poster of Rob in your room growing up?
That's already snuck out into the universe, has it? Yeah, I did. He was one of my posters, for sure. He was a beautiful man and still is.
You also got to act alongside other Parks alumni like Fred Armisen and Alison Becker.
When Rob told me Alison was playing a journalist, I literally screamed. I was like, "Yeah, I don't care about you anymore. Where is Alison?" I really bonded with her—it was nice to have a woman on set who was around my age. She got me into the New York Times crosswords, we were doing those together.
Where did you look for inspiration while crafting your character, Anna?
Rob and I did touch on a Ron-and-Leslie [from Parks and Recreation] dynamic. There is a high-octane energy to Anna that Leslie has, but she's also a combo of both Ron and Leslie in some ways. There are a couple of things I lifted straight from Nick Offerman's performance—where Anna's groaning and furious with what people are subjecting her to in her workplace.
Probably because I am so fanatical about that show, the influence on me is inevitable, even if it's subliminal. Friends, Schitt's Creek—I watch them all repeatedly, so they're probably in there somewhere.
What is the difference between working on such a quintessentially British show like Fleabag and American show like Unstable?
There are huge differences. The budgets, for one. With British comedies, it's run and gone. We shot Fleabag so fast. Everything is much smaller in the UK. Also, you only have one writer, so you just have that one voice guiding the show.
In America, you feel the machine of it—which isn't a bad thing. Being on a set that's built for you, it really becomes your home. Whereas in the UK, you film on location pretty much always. The only things that film in studios in the UK are big movies.
You've said you have plans to work with Phoebe Waller-Bridge again in the future. Is there anything you can tell us about that project?
I can't, to be honest. It's the most boring answer, even though it's the thing we are bursting about. It's been in the works for a long time, but we've both been pulled in different directions.
Here's something I can tell you: we're going to do a focused period of work very soon in terms of its development together, to really get that moving. But I think it'll probably be a couple of years before it will be anywhere you can see it.
Let's get into some Culture Diet questions. Tell me about your Substack, which you started last month. What inspired you to do that?
A friend of mine, Emma Gannon—who seems to be on the leading edge of a lot of cultural phenomenons—joined Substack last year. It really feels like a grassroots platform, and that excites me. I went on and I was amazed. There are so many incredible people on there. Now, when people ask, "What is it?" I describe it as a platform for writers and for readers.
Since I joined, I am the happiest I can remember being in quite a long time, because the time I'm spending on Substack, I was spending doomscrolling on Instagram. Now, I'm expanding my mind by reading these incredible pieces of prose, or a Patti Smith poem before I go to bed.
Who are your favorite people to follow on the platform?
Dorthea Staun—she's Scandinavian and does these free-writing pieces. To me, they're lightning in a bottle. And there's a poet called Yrsa Daley-Ward. She's absolutely incredible. Everyone else I follow is famous, so they're doing fine.
What is the best movie you've seen recently?
I did a piece about awards season and my favorite film of the year, which is this tiny Iranian movie called Hit the Road. It's absolutely stunning, but didn't get nominated. I went hard this year: I watched 102 out of the 220 screeners I got, and that was the second film I watched. I also want to give a shout out to this incredible documentary called Fashion Reimagined.
What is the first thing you do when you wake up in the morning?
I take a minute to just wake up. I never rush out of bed. I won't look at my phone for quite a long time—that's number one for me. I have it on airplane mode, so I won't accidentally get sucked in, and I won't take it off airplane mode until I've fully arrived in the world, which can even be after breakfast. I try not to be too prescriptive, though. My whole thing is connecting back to your intuition and finding out what works for you—that's what will make you thrive.
What is the last thing you do before you go to sleep? Do you put your phone away fairly early?
Really early. I'm trying to be strict with my screen time, so screens banned from quarter to eight, though I might watch an episode of Friends or something. And I read. I love an early night, getting into bed, knowing I've got an hour to read my book. It calms my nervous system so much.
What books are on your nightstand at the moment?
I am making my way through the entire Terry Pratchett series. I'm on book 14 or 15—it's called "Moving Pictures," and he's parodying the founding of Hollywood. So that's quite funny to be reading in an LA hotel room.