Yellowjackets Star Sophie Nélisse Wants More Feral Female Characters
The actress on the wild season two finale, reading fan theories, and what she predicts will happen next.
---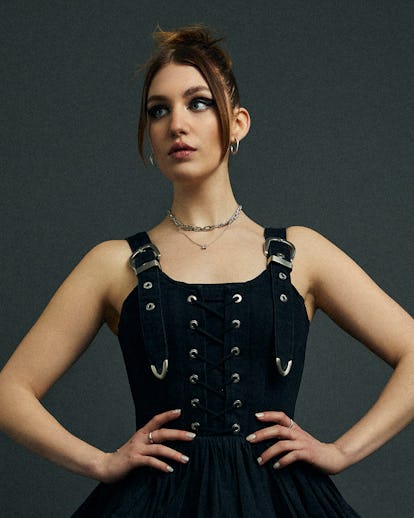 JSquared Photography
Warning: major spoilers for Yellowjackets seasons one and two ahead.
Since the first perfect PJ Harvey needle drop in the pilot, Showtime's Emmy-nominated drama Yellowjackets has been clear in its messaging as a series about female pain and rage. Season one premiered in 2021 and was divided into two timelines: the immediate aftermath of a plane crash suffered by a high school girls' soccer team (the Yellowjackets) in 1996, leaving them stranded with their coach in the icy wilderness; and modern times, where the surviving teammates are still dealing with the trauma they picked up in the woods.
Expert casting bolstered near-flawless toggling between the two timelines; while the 1996 girls are mostly played by relative newcomers, many of their adult counterparts are '90s icons themselves, including Melanie Lynskey, Juliette Lewis, Christina Ricci, and in season two, Six Feet Under's Lauren Ambrose. At the center of the story is the soft-spoken Shauna, who was sleeping with her best friend and team captain Jackie's boyfriend, Jeff, before the crash. Once in the wilderness, Shauna realizes she's pregnant. By the end of season one, Jackie has frozen to death, and in one of the series' most gruesome scenes yet, Shauna gives the go-ahead to the starving team to eat her dead body.
Lynskey plays Shauna in the modern timeline, and she finds herself once again having an affair behind the back of Jeff, whom she eventually married. Young Shauna is played with grace and depth by 23-year-old Sophie Nélisse, a Canadian actress who, before Yellowjackets, was best known for her role as Liesel Meminger in the film adaptation of The Book Thief. Nélisse's Shauna comes off as gentle and reserved, though her actions end up betraying her most self-serving side. After Jackie confronts her about sleeping with her boyfriend, Shauna orders her to go outside the cabin where the girls have found shelter; the result is Jackie's death.
Season two continues to deal with Shauna's grief over Jackie, and also answers the question of what happened to the baby—in a particularly dramatic episode, even by Yellowjackets standards, Shauna gives birth in a hallucinatory sequence to a stillborn. This confounds her trauma, and there's a marked change in Shauna into a much colder, more detached person. (She also finds she has a knack for cutting up dead bodies.) Below, Nélisse talks about how she handles playing such an emotionally taxing part, bonding with Lynskey, season two's explosive finale, and what she thinks will happen in the already-greenlit season three.
How does it feel to wrap season two?
When we put out the first season, we weren't sure how the audience was going to react and how much of a hit it would become. So for season two, we were all very nervous, because there had been such a buzz that we really wanted to give the fans what they wanted to see. The expectations were so high we could only hope to meet them. I feel like we did.
Shauna goes through a particularly traumatic arc this season, losing her baby and continuing to deal with the fallout of Jackie's death. Do the high emotional stakes of the role ever get to you?
I have to say, I'm not very method, so I don't ever carry my work back home. Filming the birthing scene was very taxing and draining, both mentally and physically. But the subject matter is so touching, and I did so much research going into it—talking to women in my life who have been through pregnancies and things going well and stuff going bad. It made me realize how unique every single experience is, and I wanted to honor all of those different stories within that episode.
What did you make of the finale and how things ended, with Coach Ben burning down the cabin?
I love the split between [Coach] Ben and the rest of the cast, because he's the only character that remains sane, to some extent. He actually hasn't lost track of his sanity when everyone else is starting to. The finale really sets the bar high for next season. With the cabin burned down, I think you'll see us out in the real wilderness, and we'll be able to tap into even more of that feral, vindictive, animalistic aggressiveness that we rarely get to see in female characters. I'm excited to see girls physically fighting.
That scene where you beat the hell out of Lottie [Courtney Eaton] must have been quite an endeavor to shoot.
We were very excited when we got that scene. We were like, "Oh, finally, I get to beat you up." We were messing around in rehearsals, and when they called action, we went full force. Everyone was like, "Oh, you can throw a punch, and you can take a hit!" I mean, poor Courtney had those crazy prosthetics by the end, she was scary to look at. But I love that Shauna loses it and that she's just ice cold. She sees Lottie's still alive and rolls her eyes.
With the cast mostly being women, is there a friendly vibe on set?
Courtney and I live together, so we've become best friends. Growing up, I always had a hard time connecting with female friends. I've always admired girl-best-friend relationships but I've never felt like I've had a good, strong one, and Courtney has just changed my mind on all of it. We really bring out the best in each other. The entirety of the cast is very supportive towards one another. When we're on set but not in a scene, we're always behind the monitor watching each other and hyping each other up.
Have you and Melanie Lynskey shared notes on Shauna?
Melanie and I chatted at the beginning of the first season, just to lock the character down, mostly the essence of her. We didn't want to get too specific with things like mannerisms and body language. I don't really know how we make her look so similar in both timelines, but I guess it just works. She's been so kind and generous, and as an actor she has this capacity of doing so much while doing so little. She has a certain confidence that resonates and feels effortless.
Do you keep up with all the fan theories about the show?
I try to steer clear from the comments section just because if you believe the good ones, you have to believe the bad ones. But the girls do have a group chat where we'll mostly send each other memes that the fans have posted. To see all the montages that I'm tagged in on Instagram, and everything fans pick up on that I haven't even picked up on—they're so devoted.
Do you have any other predictions for season three?
I think we'll eventually find out where Javi was hiding. I think Shauna's going to be cut off from all of her emotions, because she's just got nothing left. But I think she's also going to be taking charge. And I'm really excited to see where the Natalie character goes with the whole Antler Queen thing, and the different power dynamics she's going to establish within the group.