Sydney Sweeney and Glen Powell Take Their Rom Com Chemistry to the Red Carpet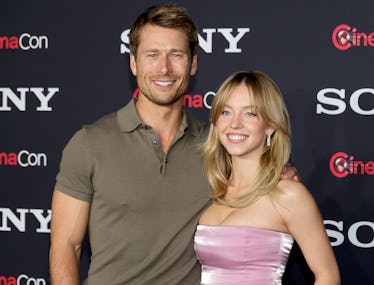 Ethan Miller/Getty Images Entertainment/Getty Images
Either the Internet is blowing things out of proportion again, or Sydney Sweeney and Glen Powell are really good actors, because the duo looked wholly unbothered about all the drama currently surrounding them when they hit the red carpet together for the first time on Monday night. The rom com costars, who just finished filming their upcoming movie, Anyone But You, in Australia, took to CinemaCon in Las Vegas to promote the project, and seemed to have a lot of fun doing so.
Sweeney and Powell stayed close on the red carpet, posing together in their differing looks. Powell opted for a simple polo and pants, both in a muted, grayish brown hue, while Sweeney wore a pink, iridescent jumpsuit with baggy pants. They laughed together while talking into a mini microphone on the carpet before trading it in for a normal sized one when they took the stage at the event.
The actors' outing comes amid rumors surrounding their relationship. Sweeney and Powell seemed to really hit it off on set, and from the looks of videos and photos taken while shooting, have some great chemistry, something that will likely pay off when their rom com finally hits theaters. But as more and more content of the two came out, the public began turning their focus to both Powell and Sweeney's respective long-term relationships. Powell has been dating model Gigi Paris since 2020, while Sweeney reportedly got engaged to restaurateur Jonathan Davino in February 2022. Now, some took this information and said, "OK, they're working actors doing their job who clearly have also become friends on set." Others, however, are convinced something salacious is going on between Powell and Sweeney. Then, on Monday, Page Six reported that Paris unfollowed Sweeney on Instagram, an action many are taking as proof that the rumors hinting at infidelity are, in fact, true. Of course, an Instagram unfollow does not a cheater make.
But again, despite all this drama, Powell and Sweeney looked completely unbothered when they hit the red carpet together. Maybe they're just so in love they're unaffected by all the noise around them, or, they know that the rumors are ridiculous (and maybe even genius movie marketing) and they're not giving anything a second thought.