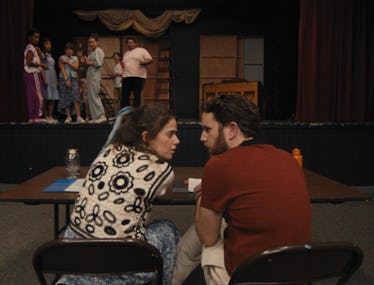 Courtesy of the Sundance Institute
A love for all things theater lies deep at the heart of Molly Gordon, Nick Lieberman, Ben Platt, and Noah Galvin's decades-spanning friendship. The quartet met one another at different points in their lives, dating all the way back to childhood ("I've known Ben since I was three years old and was in love with him, but he didn't like me [back]," Gordon recounts to me during a recent Zoom interview from her home in Los Angeles). The actors have been bound by their unwavering love for the stage ever since. Having spent the majority of their lives in the entertainment industry, they began making films about what they know best: the gloriously chaotic world of theater.
In 2017, they teamed up to write Theater Camp (which Lieberman also directed), a short mockumentary centering a group of eccentric musical theater camp counselors. They later used pandemic downtime to expand upon their idea—and crafted a delightfully unhinged feature-length film of the same name. Now, nearly six years since that initial conception, Theater Camp celebrated its premiere at the Sundance Film Festival last week, where the movie received a standing ovation and was scooped up immediately for theatrical release by Searchlight Pictures in an $8 million deal.
In the film, a documentary crew visits a three-week camp in upstate New York just as the owner, Joan (Amy Sedaris), falls into a coma and her wannabe business influencer son is forced to step in and help run things. Everyone but Lieberman acts in Theater Camp—Gordon's Rebecca-Diane and Platt's Amos are codependent theater directors who teach singing and acting while firing off highly quotable one-liners; Galvin plays Glenn, the stage manager with hidden performance skills that enter the spotlight at the 11th hour.
Alongside long-term collaborator Lieberman, Theater Camp marks Gordon's first time helming a feature film. During a "life-changing lunch" she says she "felt seen" by Booksmart producer Jessica Elbaum—who knew Gordon had the desire to pursue more than acting, and played a key role in bringing the film to life. "I couldn't believe she knew, because I was still so nervous and didn't think I actually could," Gordon says. "But that made me feel like I could bring this project to her."
Theater kids are notoriously stereotyped as being idiosyncratic at best and obnoxious at worst. Who better to poke fun at them than the folks who actually lived that experience? (According to Gordon, "[Theater kids] are main characters of their own life, and they should be made fun of in a wonderful way because they're amazing.") Because the film came from a place of love, the director felt she "had a license to make fun of it"—but it was ultimately important to find the balance between leaning into the heightened nature of theater while still being self-aware. "Theater people and normal people sometimes speak a completely different language, but if they come together, there's a lot of mutual love," she adds.
Incidentally, the Theater Camp ensemble is rounded out by a group of scene-stealing non-thespians, including Jimmy Tatro, Owen Thiele, Nathan Lee Graham, and "wacky comedic genius" Patti Harrison. Also part of the sprawling cast is Ayo Edebiri, whom Gordon describes as the "kookiest, funniest person"—she knew the comedian would be a perfect fit for the film from the start. Edebiri plays Janet, a new counselor who has zero experience with kids or theater—and is, as the actress herself points out during another interview with me via Zoom, "going through 70 different crises."
For Gordon, having stand-up comedians like Edebiri and Harrison on board meant being able to "give them a space where they could be that crazy and do whatever they want." After having spent the better part of her booked and busy 2022 working on The Bear and Emma Seligman's upcoming film Bottoms, Edebiri had been "craving" the chance to dive into a character as internally chaotic and "disconnected from reality" as Janet, especially since it allowed her to return to her improv roots.
Filming a movie that required working with a large amount of children served as both a challenge and a highlight for the team. "The hardest thing selling this movie was people wondering if kids could improvise," Gordon says. "So the thing Nick and I felt most proud of was that the kids were better than all of us." For Edebiri, who studied education at New York University, it was "overwhelming how many children there were, and how talented they all are." Gordon adds that the atmosphere working with them was supportive and unlike "a usual set where actors go to their trailers, smoking a cigarette outside, trying to be cool."
As for whether there are any similarities between the actors and their characters, Gordon and Edebiri admit there might actually be a slight distance. Despite drawing from her real-life experiences—including the "life-changing" theater teachers who made her feel like "anything is possible"—Gordon denies that she is anything like Rebecca-Diane beyond being "spiritual-leaning, sometimes." (Although "every single person you will meet who worked on this movie will say that I am very much like my character," she admits with a laugh.) Before getting into improv, Edebiri spent some of her childhood doing musical theater, although she says she never attended camp. While she thinks Janet is likely just as unhinged as the rest of the counselors—"there's a certain level of insanity you have to possess in order to tolerate that," she tells me—they're similar in that "sometimes I'll see something to the end of it because I want the story."
Everything about Theater Camp traces directly back to friendship and formative experiences, which are ingrained in the DNA of this heartfelt comedy. Gordon describes the experience of shooting it during an excruciatingly hot summer last year as being full of "pinch-me moments," especially when it came to working with so many people she admires. The passion behind this gem of a film radiates from every single frame, and as Gordon puts it, "they don't really make niche comedies like this anymore."