Hunters and Little Fires Everywhere's Tiffany Boone on Playing Young Kerry Washington
Tiffany Boone talks playing a young version of Kerry Washington's character on Little Fires Everywhere, and learning to do her own stunts for Hunters.
---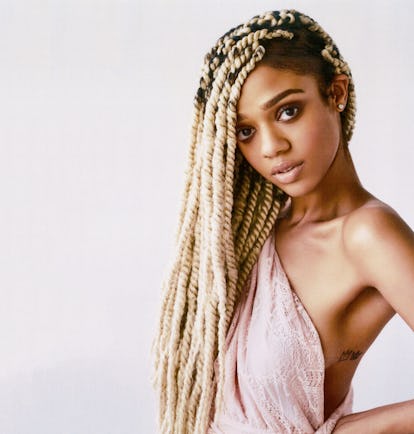 Photo by Riker Brothers
"My family will pretty much say I came out of the womb as an actor," Tiffany Boone, star of Hunters and Little Fires Everywhere, joked one afternoon over the phone.
The actress's official journey into the acting world began in middle school. She was born and raised in Baltimore, where she joined a free after-school program that focused on acting. "My father passed away when I was 3, and I've always felt like acting was a healing tool for me," she said. "I've been able to escape a lot into these different characters, and I had an outlet that a lot of kids I knew didn't have, to deal with some of the things you have to deal with growing up in that city. So I feel really lucky that I was introduced to theater at such a young age because it actually helped me to exorcise some of my demons."
When she auditioned for the role of Roxy, an activist and Black Panther who joins a group of vigilante Nazi hunters led by Al Pacino in the Amazon series Hunters, she felt an instant connection with the character. "There's this one scene where she kind of bursts into this room full of racists, pretty much, and speaks her mind about what she thinks about them," Boone said. "I thought, Oh, yeah, that's the kind of girl I want to play—a girl who will be the only black woman in a room and speak truth to power. That sounds about right for me."
"Roxy is someone who speaks her mind so much, has no problem speaking her mind, has no problem standing up for herself," she continued. "I feel like, as women, we're always trying to walk this line of, like, being assertive but not having someone call us a bitch, or how do I be a boss without being called bossy? And Roxy doesn't care about any of that. She speaks her mind and stands up for what she believes in, and I feel like I've brought some of that into my own life."
Boone expected the role to require a hefty amount of research. "I watched so many documentaries about World War II, about the Holocaust, about Operation Paperclip," she said, naming the real-life initiative upon which the series is based, in which 1,600 German members and leaders of the Nazi Party were brought to America to work as scientists and engineers for the U.S. government after World War II. And since her character is a former member of the Black Panther Party, Boone found it helpful to focus on the female leaders of the Black Power movement, like Angela Davis, Assata Shakur, and Elaine Brown. "I watched Angela Davis interviews from prison pretty much every day before I went to set. I just immersed myself in the two worlds that she's living in, being a black woman in the '70s and also fighting for justice for Holocaust survivors," she said.
But what she didn't expect the role to do was give her what she calls "the action bug." In one scene early on in the series, Roxy gets in a very physical fight with a Nazi, and is the only one capable of knocking that Nazi out. It was Boone's first time doing a fight scene on film. "I did that whole thing myself," she said. "We had a stunt double because there's always going to be a double in case something goes wrong. I think she did maybe one or two takes of the whole thing from behind, but everything you see actually wound up being me."
Her next role, which will be in The Midnight Sky, a Netflix adaptation of Lily Brooks-Dalton's novel Good Morning, Midnight, allowed her to get back on the stunt grind. "I was able to do a lot of stunt work on the movie and do it on wires, with a space suit on," she teased.
Directed by George Clooney (who also stars in the film), The Midnight Sky follows a crew of people on a spaceship that has left Earth after a catastrophic event in search of a new moon that could be inhabitable for humans, while Clooney's character has been living isolated in the Arctic circle. Boone plays a member of the space crew—hence the stunt work.
But before we get to see Boone in a space suit later this year, she will appear in several '80s flashback episodes of Hulu's adaptation of Celeste Ng's novel Little Fires Everywhere as the young version of Mia Warren, a character played by Kerry Washington.
Almost immediately after Boone wrapped her scenes in Hunters, the opportunity to audition for the role of young Mia Warren fell into her lap. "Luckily, I'd been watching Kerry for so long. I've been such a fan of hers since she did Lift, this independent movie that really popped her career. I understand her as an actress, I think, so I was able to bring that understanding to my interpretation of the character," Boone said.
Hulu's version of Little Fires Everywhere is an eight-episode investigation into race relations in suburban Ohio in the late '90s. Washington stars as Mia, alongside Reese Witherspoon, who plays Elena Richardson, an upper-middle class mother of four who rents out her extra property to Mia and her daughter, Pearl.
Boone sees young Mia as a vehicle for the audience to understand what it means to find one's voice as an artist. "Any young artist has to go through that period of, How many jobs do I need to have, or am I eating ramen noodles for a few days in order to make this happen, and how much do I love this thing, what will I sacrifice?" Boone said. "She loves her art so much, and has sacrificed so much for it, it's a wonderful world to fall into when someone is so committed to something."
"Mia goes through so much in a short amount of time, but you see all this growth in her from the flashbacks, and that's the kind of work I love to do," the actress added. "You can see a transformation in the character, and see them go through low lows and high highs. I felt challenged in a way I hadn't been in a long time."
Boone also credited Washington and Witherspoon's work as producers with inspiring her to do some producing of her own. "Watching them, the amount of work that they're putting into this, and being the women at the helm of this huge show and surrounding themselves with other women, it really inspired me to get into production," she said. "I've wanted to have a production company for a while and was waiting, but it increased my desire to do that because I saw how well they did it, and how they created such a wonderful atmosphere on set."
Related: Jerrika Hinton Explores Catholicism and "Cop-aganda" on Hunters