Tosin Cole Has the Range
The Florida-born, South London-raised actor took on three significantly different projects over the past three years—and has shined in every role.
---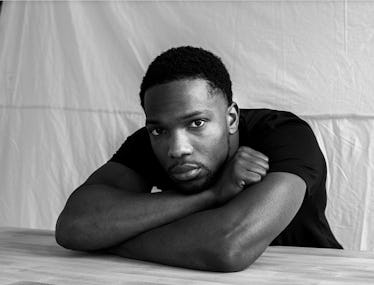 Photograph by William Henry Thompson
"I work well under pressure," the British actor Tosin Cole says brightly over Zoom from his family's home in London on a recent afternoon. "When you are under pressure, you just have to get it done. So you do it." Cole, who starred in a range of projects including the Oscar-nominated Till, the 2023 comedy House Party, and the AMC series 61st Street, knows a thing or two about getting things done. Since 2020, he has whizzed through filming a series of banner roles that prove his artistic range. In Till, he plays the American Civil Rights activist Medgar Evers; while in 61st Street, the actor stars as Moses Johnson, a Black high school athlete who gets swept up in the Chicago criminal justice system. These two projects, he explains, were incredible experiences—but their subject matter weighed heavily upon his heart. So when he was approached with the opportunity to have some fun with House Party, a modern take on the '90s film series starring hip-hop duo Christopher "Kid" Reid and Christopher "Play" Martin, he jumped to partake.
"I was like, boy, I'm just gonna have to just dive in there," he tells me between bites of shrimp (Cole says the prospect of a home-cooked meal enticed him to visit the family compound). "I had two days of preparation and then I started filming a whole different act, a whole different accent. Everyone else had had read-throughs, had a little warm-up, but I didn't." Despite the quick shift, Cole shines in the highly entertaining film, which is currently in theaters. Below, the self-described "obsessive" when it comes to film and television discusses watching his own performance in House Party (reluctantly, he points out), and how he really feels about the reboot renaissance.
I read an article in which you said you were starstruck meeting all the huge celebrities that made cameos in House Party—Snoop Dogg, Lil Wayne, LeBron James, and the like.
Yes, I took the job to be a groupie, basically [laughs]. Even while reading the script, there were so many cameos listed. I was like, I have to do this. This is the only time I'm gonna get to meet these people, the only circumstance where I say hello and they have to say hello back.
In that same article, you talked about how you were familiar with the original House Party film, but only on a fairly cursory level. Did you feel that not being a superfan of the original gave you more freedom to interpret the role as you liked?
Yeah. If I was a super fan, I don't think I would've done it. I would have thought, no, I'm going to ruin it. But I felt we needed something like this in the cinema, where it's just fun. People can come watch it together, and it's just a laugh—we just had to avoid replicating what the original filmmakers did. We wanted to tip our hat, pay homage, and add our own flavor to make it something new and more relevant for today.
How do you feel about reboots, generally speaking? It's quite a polarizing topic.
I'm a selective reboot fan. But now that I've done one, I'm definitely being biased. I'm giving myself a pass. What I realize now is a lot of the films I grew up watching were also remakes. When I found out that Scarface was a remake, I was heartbroken. But I feel like there's always a time and a place for a reboot—it just has to be done really well and it has to be fresh.
You are a perfect fit for W's Culture Diet series because, although some might not know it, you're a bit of a movie buff. Is there a North Star film or television show that you love and often go back to for inspiration?
There are so many, but La Haine changed how I watch films, especially in terms of cinematography and the way the story unfolded. And The Wire changed how I view TV. I got attached to so many different characters and felt conflicted—I'd never been in that position before while watching television.
What TV shows have been keeping you up at night?
I was obsessed with the first two seasons of this Italian show, Gomorrah. Ciro di Marzio and Genny Savastano, [two actors from the series,] oh man. And right now, I'm rewatching The Sopranos, which I first watched at 19 and didn't really get. Now, I appreciate the writing and the themes explored. I'm realizing it was very ahead of its time, especially when it came to the mental health and therapy storylines. I wonder if it was around today, would it have been more appreciated than it was back then?
Which books are on your bedside table at the moment?
My books—they're catching dust right now. But my favorite is probably The Alchemist. That's a book that I'll go back to just to read a page or two every so often. Each time, I pick up something different. It's a gift that keeps on giving.
What's the last thing you Googled on your phone?
"Teppanyaki grill." I was just looking for one, I don't know why!
What was the last concert you saw?
Kendrick Lamar, for his Mr. Morale Tour. Oh, bro. It was one of the best things I've ever seen. It might be the best concert I've ever been to, period. I saw him at the 02 Arena in London with a couple of friends; we managed to get tickets. I really, really, really appreciated the artistry, choreography, the colors, the movement. Everything was so precise.
What's the last movie that you saw in theaters?
House Party, in New York.
So you watch your own performances?
You know what, I usually don't. But now, I'm going to the screenings—and I had family in New York, so I wanted to see their reactions to the movie. But if I can avoid it, I will try not to see myself. 'Cause then you're like, "Why did they use that take? Why is my lip doing that? Why are my eyes doing that?" But the edits are out of your control, so I tend not to go back.
Do you listen to podcasts?
I do, but I like ignorant podcasts. I don't like really intelligent ones, where everyone's getting philosophical. I like "Drink Champs" and people telling funny stories. Joe Budden's podcast used to be quite good.
Are there any young actors whose work you're currently loving?
I do like Timothée Chalamet, I think he's been making some real cool choices with his career. But really, it's my friends, to be honest with you. There's a whole gang of us: me, Calvin Demba, Damson Idris, Jack McMullen.
Do you have a group chat with all of them?
I've got many group chats, and they're all on mute. I'm only involved if there's a roasting session. But if they're talking about anything else, everything's on mute. I can't stand the constant pinging.