Everything to Know About Wednesday Season 2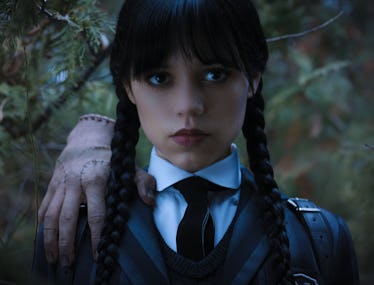 Courtesy of Netflix © 2022
After becoming one of the most-watched series in the streamer's history, Wednesday is gearing up for a second season at Netflix. No surprise given the show has made a star of lead Jenna Ortega and spurred several memes.
In a fourth wall-breaking teaser dropped by Netflix, Wednesday (Ortega) narrates a voiceover cut with scenes from the first season, saying, "Over the past few weeks, I've been hunted, haunted and mimicked millions of times across the internet. It's been pure torture. Thank you."
Specifically, she's referring to the infamous dance scene that went viral on TikTok, with millions imitating Wednesday's eccentric moves set to "Goo Goo Muck," including the queen of strange pop herself, Lady Gaga. The rest of the trailer features Gaga's "Bloody Mary" as a nod.
Released just in time for holiday viewing on November 23, 2022, Wednesday became Netflix's third most-popular series of all time, after Stranger Things and Squid Game. In a statement, showrunners Alfred Gough and Miles Millar said, "It's been incredible to create a show that has connected with people across the world. Thrilled to continue Wednesday's tortuous journey into season two. We can't wait to dive head first into another season and explore the kooky spooky world of Nevermore. Just need to make sure Wednesday hasn't emptied the pool first."
Here's everything we know about Wednesday season two so far:
What will the plot of Wednesday season 2 be?
Set at Nevermore Academy, a boarding school for children with supernatural gifts, Wednesday expands on the original Addams Family lore, adding new fantasy elements to a beloved story.
In a chat with The Great star Elle Fanning for Variety on June 7, Ortega shared some details about the plot of season two. The 20-year-old said, "We've decided we want to lean into the horror aspect of the show a little bit more. Because it is so lighthearted, and a show like this with vampires and werewolves and superpowers, you don't want to take yourself too seriously."
She added, "We're ditching any romantic love interest for Wednesday, which is really great." It's a notable admission not only because stories about young women so often center around romance, but because Wednesday's first season was specifically called out for placing its lead in a love triangle that didn't add much to the character's development. Ortega herself commented that the triangle between Wednesday, Tyler Galphin (Hunter Doohan) and Xavier Thorpe (Percy Hynes White) "made no sense."
Ortega will also be a producer this go around, which she says was a "natural progression" from how hands-on she was on season one.
"We had already been throwing out so many ideas, and I'm somebody who's very hands on. I want to know what's going on," she said. "And with a character like Wednesday, who is so beloved and such a legend, I just really didn't want to get her wrong. So I try to have as many conversations as possible. On set, with the writers and Tim [Burton], we all would get together and decide, 'Okay, what works and what doesn't?' It was naturally already very collaborative."
"So in preparation for a second season, we wanted to get ahead of the curve and make sure that we could start the conversations earlier," she continued. "And I'm just so curious. I want to see the outfits, new characters that are coming in, scripts, and they were gracious enough to let me put the producer hat on."
Which cast members will return?
For season two, we'll see the return of fan favorites like Catherine Zeta-Jones as mother dearest Morticia Addams, Joy Sunday as Wednesday's rival, Bianca and lovable werewolf roomie Enid (Emma Myers) and Tyler Galpin (Hunter Doohan). At a Tudum event held by Netflix in June 2023, Ortega along with Sinclair, Barclay, and Doohan addressed various fan theories including that a new member of the Addams family would be introduced to the series. While the actors stated that they didn't know who the character is exactly, they did have a wishlist. "I would love to see Cousin Itt," Ortega said. Other possibilities are Grandmama Addams or Wednesday's siblings, Pubert and Pugsley Addams.
Is there a release date yet for Wednesday season two?
As of yet, there's no release date. But during the June Tudum event, Emma Myers confirmed that the series was currently being worked on and that "the storyline is so top secret even we don't know what's going to happen." Stay tuned for details.
This article was originally published on