Leave It to Bella Hadid to Make Pattern Clashing Cool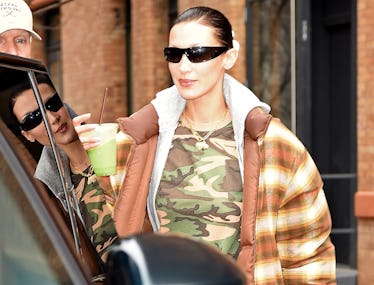 MEGA/GC Images/Getty Images
After a 2022 filled with successful street style looks, which led Lyst to call the model the "Power Dresser of the Year," Bella Hadid has had a quiet start to 2023. She's been laying low, recuperating, but now that fashion week is upon us, the model has emerged and is back on the streets of NYC, showing off her best looks. On Thursday, Hadid was spotted out with a friend and once again, her outfit pushed style boundaries, this time, in the form of pattern clashing.
The model was photographed walking arm in arm with a friend as the pair stepped out to grab some coffee. For the excursion, Hadid kept things casual, wearing a camouflage print top layered under a gray hoodie and a yellow, plaid Supreme puffer. She pulled her hair (dyed back to dark brown following her brief foray as a blonde) into a tight bun, and added some sunglasses, a Missoma ring, and black sneakers.
The model finished off the look with black pants to balance out the color on top and a Louis Vuitton x Stephen Sprouse Speedy bag from 2001. It's a definitive bit of both Y2K fashion and Marc Jacob's run as creative director of Louis Vuitton. Of course, this isn't the first time Hadid has sourced an 00s 'It' bag and given it new life.
The rule for pattern clashing has always been that, in order to pull it off, you have to stick to a similar color palette, and Hadid does that with this look, choosing patterned pieces comprised of greens, yellows, and browns. Even her Speedy works in this regard.
And while her patterns may not have matched, her boyfriend did. Marc Kalman was later spotted with the model wearing the same plaid Supreme coat, though his was rendered in black and gray plaid.
Now that fashion week is upon us, Hadid (and by extension, Kalman) is likely about to be fairly ubiquitous as she bounces from show to show like she has in past seasons. So, get ready to see a lot of street style looks coming your way very soon.