Bella Hadid Returns to the Red Carpet After a Five-Month Hiatus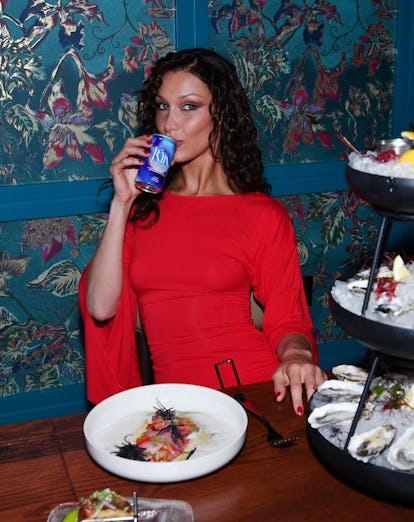 Denise Truscello/Getty Images Entertainment/Getty Images
We may receive a portion of sales if you purchase a product through a link in this article.
Spring is upon us, which apparently means Bella Hadid is emerging from her red carpet hibernation. After five months away, the model returned to the red carpet over the weekend when she stepped out in Las Vegas while also playing the role of businesswoman to promote her brand.
On Saturday, Hadid attended the grand opening of Stanton Social Prime at Caesars Palace in Vegas to support her non-alcoholic beverage brand, Kin Euphorics. At first glance, it might seem like the model grabbed a piece from her likely expansive vintage archive for the event, perhaps a Tom Ford-era Gucci dress. In actuality, her look for the carpet was a modern one, which is becoming a bit of a rare occurrence for Hadid. She wore a red midi dress from Amy Shehab, which had a bit of a '90s feel to it with a boat neckline, dramatic long sleeves, and a drop waist belt detail. Hadid wore her hair in curls, and lined her hairs in black to achieve a very 2010's makeup look. She then finished off the ensemble with black, strappy heels from Femme LA.
Hadid has been laying fairly low over the past few months, so it's fitting that she would only step out now in support of Kin. The last time we were blessed with a Hadid red carpet moment was back in October 2022, when the model attended the Fashion Trust Arabia Prize Awards in Qatar. She even skipped the Vanity Fair Oscar party last week despite the fact that her sister and many of her peers were in attendance. Hopefully, we won't have to wait too long for Hadid to return to the red carpet again. The Met Gala is just a little over a month away, and the model is usually a guaranteed guest. Plus, it seems likely that many of the models who worked with Karl Lagerfeld during his lifetime (Hadid included) will want to honor him at the event.
Get Bella's red carpet look:
We may receive a portion of sales if you purchase a product through a link in this article.