Brie Larson Makes Her Cannes Debut In a Couture Jumpsuit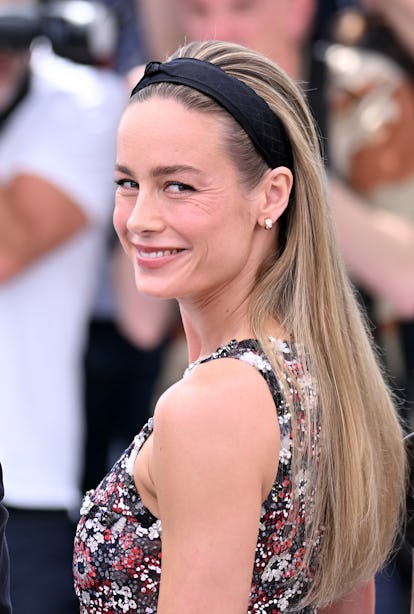 Photo by Mustafa Yalcin/Anadolu Agency via Getty Images
At last—film stars, celebrities, and the like have descended on Cannes, France for the city's annual film festival. And aside from the dozens of premiers, lucky for us, there is also bound to be plenty of noteworthy fashion throughout.
Leading the charge on opening day is Brie Larson in an embroidered Chanel jumpsuit from the brand's spring/summer 2023 haute couture collection. Larson (who is making her Cannes debut) is one of eight members of this year's jury—a body consisting of actors, directors, and screenwriters who will award one of the nominated films the prestigious Palme d'Or prize on the last day of the event.
Larson's floral number features delicate red, white, and black embroidery throughout and though it originally debuted with a bowtie and gold boots on the runway, Larson went in another direction. She paired the piece with sleek black heels, a velvet headband, and minimal jewelry aside from a silver ring and earrings.
The night prior, Larson attended the jury dinner where she also wore Chanel—this time, a more casual look from the brand's Métiers d'art 2022/23 collection. Expect to see a lot of Larson (presumably in Chanel) throughout the nearly two week duration of the festival.
"I only know my perspective, and I've never curated a film festival," Larson said to reporters on the first day of the festival. "I take the same level of preparation and care […] whatever the budget. A film is a film. This is my first time here. I'm sure the movies will have a wide range in scope, and that's what makes this festival so special."