Long-Lost Twins Carla Bruni and Bella Hadid Finally Met in Cannes
And it's all thanks to Naomi Campbell.
---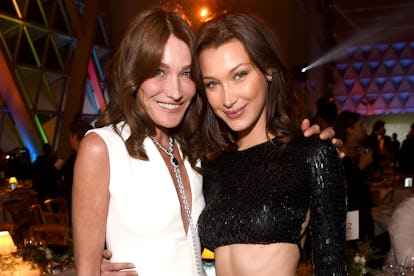 Dave Benett/FFR
No, it's not your imagination. Current A-list model Bella Hadid and original '90s supermodel Carla Bruni bare a striking resemblance to one another, and even they agree. Indeed, he two models were finally spotted together and posed for an illustrative side-by-side snapshot. The fateful meeting took place at the Cannes Film Festival. So any conspiracy theories that the two are the same person or there's some sort of time travel involved can end, but where conspiracy theory ends, another begins. Uploading the photo to Instagram on Monday, Bruni decided to start a rumor of her own. "Do I have a hidden daughter? @bellahadid," the former first lady of France wrote in the caption.
The whole thing was orchestrated by none other than Naomi Campbell, who invited the two to her charity gala dinner on Sunday night. The dinner was preceded by her annual Fashion for Relief fashion show, which Campbell threw in order to raise funds for Save the Children and Time's Up, Vanity Fair reported. This year's Fashion for Relief theme was "Race to Equality." "I feel like we are taking two steps forward and one step back," Campbell said at the event, according to Vanity Fair. "We look up to our world leaders—we are supposed to look up to our world leaders…I have seen things. I just got back from Africa two days ago, and we are not where we should be."
"It's what's happening right now. It's in our faces. Why shouldn't it?" Campbell told Vanity Fair about her decision to raise money for Time's Up. "And I think for every successful man there is a very strong and powerful woman."
The fashion show, which has been raising money for different causes since 2005, featured Hadid, Winnie Harlow, and Campbell herself, among other supermodels, The Sun reported. Kendall Jenner was also in attendance. Although she didn't walk the runway, according to The Sun, she later joined Hadid, Campbell, Bruni, and others backstage before moving to the star-studded gala dinner.
Related: Mary-Kate Olsen and Olivier Sarkozy 'Seem So Happy' in Their Marriage According to Carla Bruni
How Carla Bruni Went From Model Chanteuse to French First Lady—And Back Again
Carla Bruni attends the 11th annual Aids Gala Benefit, hosted by Pierre Berge, at the Pavillon d'Armenonville on February 2, 2005 in Paris, France.

Getty
Carla Bruni attends the 2005 Scopus Awards gala at the Petit Palais, avenue Winston Churchill, November 21, 2005 in Paris, France.

Getty
Bruni wears a sleek blue slip dress to a fashion event.

Getty
Bruni dons an all-brown look, complete with a fur-trimmed overcoat and knee-high boots.

Getty
Carla Bruni shows off her legs in a flirty minidress with strappy heels.

Getty
Bruni during a state visit to France, at the Palais de l'Elysees on March 10, 2008 in Paris, France.

Getty
Carla Bruni arrives at the Cinema Against Aids 2007 in aid of amfAR at Le Moulin de Mougins in Mougings on May 23, 2007 in Cannes, France.

Getty
Bruni-Sarkozy exits the The Metropolitan Museum of Art following the The White House Symposium on Advancing Global Literacy Meeting on September 22, 2008 in New York City.

Getty
Bruni Sarkozy attends the Fashion Dinner for Aids at the Pavillon d'Armenonville on January 29, 2009 in Paris, France.

Getty
Bruni-Sarkozy, wears an outfit designed by Dior to a state banquet at Windsor Castle on the first day of her State Visit on March 26, 2008 in Windsor, England.

Getty
Queen Sofia of Spain and Carla Bruni attend a Gala Dinner honouring French President Nicolas Sarkozy at the Royal Palace on April 27, 2009 in Madrid, Spain.

Getty
Bruni-Sarkozy arrives at a garden party to celebrate Bastille Day at Elysee Palace on July 14, 2009 in Paris, France.

Getty
Bruni-Sarkozy arrives for the Mandela Day: A 46664 Celebration Concert at Radio City Music Hall on July 18, 2009 in New York City.

Getty
Bruni Sarkozi arrives at the Bulgari The Diva Event In Paris at Hotel Potocki on July 2, 2013 in Paris, France.

Getty
Bruni attends 'Bvlgari Celebrates 130 Years In Rome' at Via Condotti on March 20, 2014 in Rome, Italy.

Getty
Bruni-Sarkozy attends the Schiaparelli show as part of Paris Fashion Week Haute Couture Spring/Summer 2014 on January 20, 2014 in Paris, France.

Getty
Bruni-Sarkozy attends amfAR's 21st Cinema Against AIDS Gala.

Getty
Bruni attends the Bulgari and Vogue Party at Apicius Restaurant as part of the Paris Fashion Week Womenswear Spring/Summer 2014 on September 28, 2013 in Paris, France.

Getty
Bruni arrives at the Bulgari flagship store reopening on New Bond Street on April 14, 2016 in London, England.

Getty
Bruni attends the Gala event during the Vogue Fashion Dubai Experience 2015 at Armani Hotel Dubai on October 30, 2015.

Getty
Bruni attends Chopard presenting The Garden of Kalahari at Theatre du Chatelet on January 21, 2017 in Paris, France.

Getty
Bruni-Sarkozy attends the Christian Dior show of the Paris Fashion Week Womenswear Spring/Summer 2017 on September 30, 2016 in Paris, France.

Getty
Bruni performs during U.S. showcase on June 13, 2017.

Getty