Caroline Polachek Takes Paris Fashion Week in a Sheer Dress Made of Blue Hair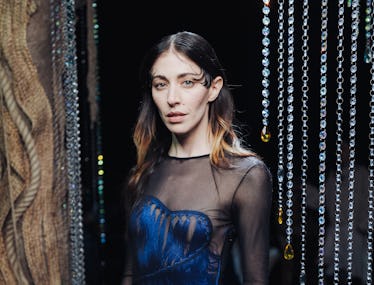 Pierre Mouton/Getty Images Entertainment/Getty Images
Caroline Polachek is the alt-pop musician of the moment. Fresh off opening for Dua Lipa's Future Nostalgia tour last year and the recent release of her critically acclaimed album Desire, I Want to Turn Into You, Polacheck showed up at Paris Fashion Week to take her rightful place among the international front row set.
The artist has developed her own unique fashion sense and an overall aesthetic that's something like a whimsical take on dark, modern fairytales. So perhaps the dress she wore to attend Acne Studio's fall 2023 show could be described as alt-Rapunzel. Adapted from Acne's spring collection, the base layer of the dress is constructed completely from sheer fabric. Coverage is provided by carefully arranged tracks of blue hair sewn onto the fabric. Polachek finished the look with a spiky handbag, also from Acne.
She must have felt right at home at the Acne Studios show. The presentation took place among a set assembled to resemble a dark, enchanted forest. Set designer Shona Heath was responsible for the staging. In fashion, she's best known for her collaborations with photographer Tim Walker, including several shoots featured in W (see our 2017 cover shoot with Björk as an example).
Polacheck is no stranger to the world of fashion. She's walked the runway several times for arty New York label Puppets & Puppets—though for the rest of the year, touring will take up much of her time. Desire has won over critics, and already seems destined for many "Best of 2023" lists. PopMatters calls it "engaging at every turn and carefully calibrated to its point of view, it represents art pop hitting yet another dizzy apex." In April, she'll kick off a headlining tour that will take her across North American and Europe with Sudan Archives and Ethel Cain among the opening acts. Perhaps she's in Paris hunting for tour outfits...