Cate Blanchett Channels Lydia Tár to Pick Up Her First Trophy of the Awards Season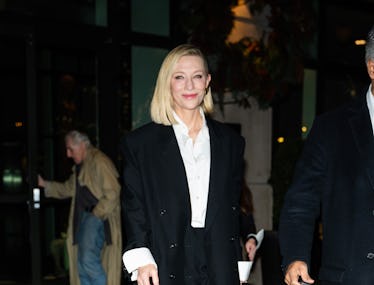 Gotham/GC Images/Getty Images
After watching Cate Blanchett's performance as the titular character in Todd Field's TÁR, many have suffered withdrawal as they contend with the fact that this innately talented, yet insecure woman living behind a mask of tailored suits and malfeasance, is not an actual woman. Blanchett is an Australian actress, not the world's most renowned female conductor, and Lydia Tár doesn't really exist. But just when we've accepted our Tár-less circumstances, Blanchett got our hopes up once again. You see, the actress just touched down in NYC and, since arriving in the Big Apple, has served two unequivocally Lydia looks. Possibly, this could be foreshadowing a Tár-forward award season with Blanchett in trousers, perfectly oversized sweaters, and The Row overcoats.
On Wednesday, Tár—sorry, Blanchett—got off the plane in New York wearing an ensemble you can't tell us she didn't grab from the film's set. The actress was spotted at JFK wearing a dark teal corduroy three-piece suit from Mango, layered a top a light yellow button down and black turtleneck. Blanchett was in the city for the New York Film Critics Circle Awards (where she won the award for best actress, by the way), and when she arrived to the event, she was once again channeling her most recent character.
Blanchett attended the awards in a look from Stella McCartney's spring/summer 2023 ready-to-wear collection, a subverted take on the classic men's suit, featuring a white button down, oversized, double-breasted blazer, and an asymmetric skirt resembling pants pulled to one side. The top is quintessential Tár, though the bottom is much more Blanchett, who likes to play with silhouette in her red carpet looks. Her choice of thigh-high leather Stuart Weitzman boots is also more in the actress' aesthetic. Blanchett finished off the look with the same bag she was seen carrying at the airport earlier in the day, a piece from Louis Vuitton's recently-announced collaboration with Yayoi Kusama, which pre-launched on January 1st, but isn't available for purchase until the 6th.
One of our many hopes for this awards season would be for Blanchett to enlist TÁR's costume designer, Bina Daigeler, to dress the actress as she likely continues to pick up trophies at events over the next few months. After this showing, however, it's clear that Blanchett's stylist, Elizabeth Stewart, has a similar vision for the actress and Daigeler, Fields, and Tár's influences are very much a part of that.