Chanel Sees Your Rosette Trend and Raises You a Camellia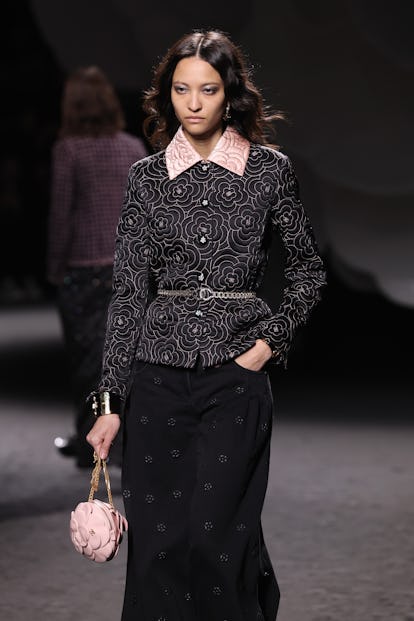 Chanel fall 2023. Photo by Pascal Le Segretain/Getty Images
Virginie Viard's fall 2023 collection for Chanel was an ode to the house codes we all know and the clients love: gentle, romantic, a touch bohemian. The designer aimed to present clothing that felt "delicate and in motion," according to the show notes.
At the center of the black stadium erected inside the Grand Palais Éphémère was a giant, sculptural camellia. On each seat was a single fresh-cut bloom of the house flower. Neither was a red herring. The collection was festooned with camellias of all sorts—and, according to Viard, the camellia was "more than a theme," it functioned as a unifying accent for the collection. They were woven into tweeds and knits, appliquéd onto long pants, traced in white feathers on knits, and could be found hiding in floral prints—if you knew where to look.
The silhouettes followed a '60s Mod/bohemian bent, and a short film shot by the photographers Inez and Vinoodh featured Japanese actress Nana Komatsu as a Polly Maggoo type. (The setting of the film, a merry-go-round of wooden horses, gave Viard the idea for Bermuda shorts suits and asymmetric proportions.) The bottom half of many of the signature tweed suits was a pair of culottes worn over lace tights. There were long prairie dresses and Channellian versions of Mod moto. Some of the prettiest looks were long, apron-like A-line dresses that felt light and fresh amid the mix. And, in a refreshing moment at Paris Fashion Week, where the models have largely been waif-like, Viard integrated some body diversity into her show.
As indicated by the set, the prevailing color story was black and white with a touch of red and pink here and there. Toward the end of the show, the big white camellias were suddenly cast in red light. The crowd, made up in large part by giddy clients clad in their most classic Chanel ensembles, gasped in delight. Viard had given them what they wanted.