Chiara Ferragni Puts an Italian Spin on the "Underwear as Pants" Trend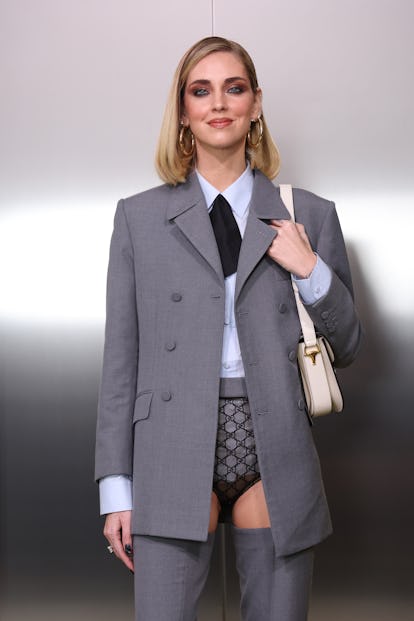 Photo by Vittorio Zunino Celotto/Getty Images for Gucci
American style stars like Julia Fox, Bella Hadid, Kendall Jenner, and Hailey Bieber have been championing the "underwear as pants" trend all winter long. Now Chiara Ferragni, the Italian fashion VIP of The Blonde Salad fame, is here to show you how the Italian girls do it. Naturally, it's all a little bit more advanced.
Ferragani, who heads up a small army of 28.9 million Instagram followers, showed up to today's fall 2023 Gucci show in Milan wearing what may have seemed from certain angles like a pretty traditional Gucci suit. She paired a loose-cut gray blazer over a pale blue shirt. In a crowded room, you could imagine someone having a full-on conversation with her before realizing that her lower half was decked out in what can only be described as "business chaps," exposing a pair of lacy Gucci monogram briefs.
It's all a bit reminiscent of that viral image of a man in a backless suit that makes its way around the Internet from time to time. You know, the one that Phoebe Bridgers once recreated, rather cheekily, on Instagram.
Stateside, most of our fashion VIPs have pulled off the "underwear as pants" trends with a casual ease. They're styled enough to make it look like they didn't accidentally wander out of the house in the middle of the night after a bad reaction to Ambien, but it usually gives the effect of laidback ease. It's like they stopped halfway through getting dressed and thought, "Actually, this looks good enough." Take a look at how Kylie and Kendall Jenner did it.
Ferragani's take, in contrast, is definitely more stylized. She wants you to notice she's not wearing traditional pants, rather than to forget pants even existed in the first place.
Naturally, Ferragani's outfit was once shown on a Gucci runway, but she put her own spin on it. It was originally worn by (twin) male models wearing boxer shorts, where the effect was a bit more "leg cutout" than full-on underwear-baring chaps. Ferragani's take on the trend is nothing if not her very own.