Chloë Sevigny and Pam Anderson Double Up in Matching Mugler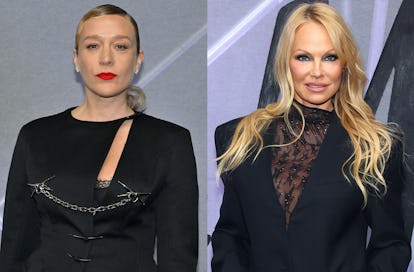 ANGELA WEISS/AFP via Getty Images/Arturo Holmes/Getty Images
Casey Cadwallader really pulled out his rolodex for the Mugler x H&M launch event on Wednesday night, filling up the Park Avenue Armory with the regular Mugler posse of Lola Leon, Eartheater, and Shygirl, but also with some extra star power in the mix. As Cadwallader celebrated the launch of his new collaboration with the retail giant, he was joined by some industry giants, including Pamela Anderson and Chloë Sevigny.
Sevigny has been a front row regular for decades now, but Anderson has recently enjoyed the new spot since her renaissance last year. The two arrived at the show, wearing their individual, tailored Mugler looks. Sevigny wore a version of a classic Thierry Mugler dress from 1994, which Cadwallader recreated for the H&M line. The set, which Mugler muse Connie Flemming wore in pink in an ad for the collaboration, features a tailored black jacket and skirt decorated with a chain across the bust, and more hardware detail throughout.
Anderson, meanwhile, wore a completely sheer bodysuit, decorated with glittering star motifs. She topped the look with an oversized blazer and finished it off with towering Christian Louboutin stilettos.
Once settled in their side by side seats at the event, the pair posed for photos together, which Sevigny posted to her Instagram story. The two seemed to enjoy each other's company, making faces for the camera, and getting close for a back to back shot.
As the show began, Sevigny, Anderson, and the rest of the audience were treated to Irina Shayk, Paloma Elsesser, and more models, who provided the visual feast for which Cadwallader's shows have become known. Later, Shygirl, Eartheater, and Amaarae, who all starred in the collaboration's campaign, hit the stage for performances, turning the already festive evening into a bonafide party.