Two Classic Mugler Muses Return For The H&M & Mugler Collab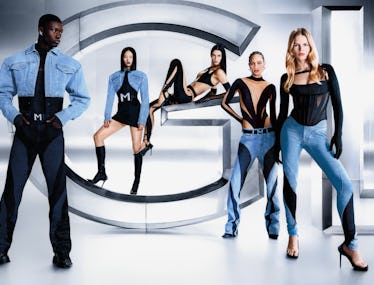 Courtesy of Mugler
H&M is back with another high fashion collaboration and this time, they're working with Casey Cadwallader at Mugler. On Thursday, the first peek at the collection dropped on social media, along with a two-minute music video advertisement for the collaboration, and it basically represents everything we've come to expect from Cadwallader's Mugler—cut out bodysuits, mind-bending visuals, and the appearance of Eartheater. There was, however, some of Thierry Mugler's legacy mixed in as well, in the form of two of his origina couture muses, Jerry Hall and Connie Fleming.
The video begins with artists Amaarae, Shygirl, Eartheater, dressed in pieces from the collection, recording a new version of Stardust's 1998 song "Music Sounds Better With You" with Cadwallader in the studio. Just as things are heating up, Imaan Hammam busts through the wall and the collection gets more of a moment to shine. "I wanted to make people excited from the get-go, an explosion where everyone is like…wait, what is happening?" Cadwallader told Vogue of the video, and the effect is absolutely achieved. Directed by Torso Solutions, the minds behind three of Cadwallader's recent campaign video shoots, the two-minutes can be described as a kind of fashion kaleidoscope.
Mariacarla Boscono takes over and suddenly, we're on the set of a late night show and Mugler muse Jerry Hall is standing front and center proclaiming, "Ooh, baby I feel so good." Connie Fleming (AKA iconic New York clubland personality Connie Girl), meanwhile, is behind the desk and she feels "right." The two take a moment to show off their looks. Hall, who walked in multiple Mugler shows throughout the '80s and 90s, wears a remake of Mugler's famed Vampire Dress from 1981, versions of which have been previously worn by Sydney Sweeney, Dua Lipa, Natalie Portman, and even Alexa Demie on Euphoria. Meanwhile, Flemming, another muse of the late designer, is in a light pink set featuring an asymmetric mini skirt and structured jacket, partially inspired by a look from 1994. The designs on Hall and Fleming are just two of a handful of limited-addition archive Mugler pieces that Cadwallader remade for the H&M collection.
THIERRY ORBAN/Sygma via Getty Images
Cadwallader joins Hall and Fleming onstage, as does Venezuelan musician Arca, which leads to another round of trippy catwalk visuals as models in sheer catsuits and neon tops strut across the screen. Dancers and models come together to show off the collection before revealing the Amaarae, Shygirl, Eartheater supergroup who are now onstage, performing in front of a screaming crowd.
It's all a bit hectic, and it's easy to miss the point of the whole to do—the actual clothes. For the most part, though, it seems Cadwallader didn't stray too much from his Mugler ready-to-wear designs for this collaboration. He explained that the collection is split into three segments. There are the tailored pieces, which include LBDs, dressy separates, and lots of crystals. Second is "the Berlin, clubby leathery fashion section," as Cadwallader explained to Vogue, a segment which includes those jeans with black lycra inserts, which have become a best seller for the brand. And then, of course, the catsuits. "Well… I actually didn't have one in there at first, but it had to be there—H&M asked," Cadwallader said, clarifying that the design the brand has become known for was actually only ever sold as a top, meaning this will be the first time us normies can get our hands on the look beloved by pop stars everywhere. Of course, you will have to act fast as these H&M collabs usually tend to fly off the shelves. So, set your calendars. Mugler's H&M collection—which will feature womenswear, menswear, and accessories—will launch in select stores and online on May 11th.