Choupette Lagerfeld Breaks Her Silence on Doja Cat and Jared Leto's Met Gala Tributes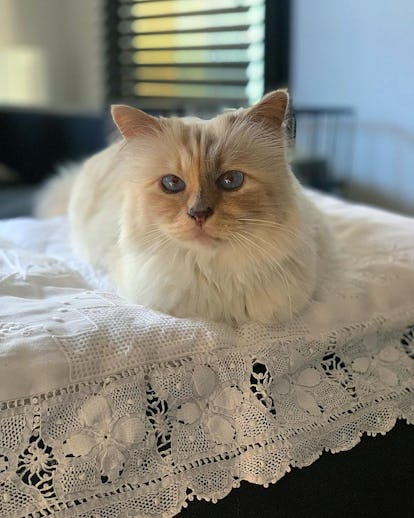 @choupetteofficiel
There were a few notable absences from the Met Gala red carpet on Monday night. Two of Karl Lagerfeld's original muses, Inès de la Fressange and Claudia Schiffer, chose not to attend, his old friends, Vanessa Paradis and Diane Kruger, were not there, and current Chanel creative director Virginie Viard skipped out on the red carpet before quietly heading inside as well. The most upsetting no-show, however, wasn't a model, an actress, singer, or designer, but a cat. Because much to the disappointment of all those who tuned into the Met Gala red carpet, Lagerfeld's beloved Birman cat, Choupette, did not make an appearance, at least the real Choupette did not.
Those who were paying attention knew not to expect the designer's furry friend on Monday night. Ahead of the event, Choupette took to her Instagram to announce that she would not be at the Gala. "Many people invited me to walk the red carpet of the #METGALA2023 in tribute to Daddy, but we preferred to stay peacefully & cozy at home," she managed to type out, despite the lack of opposable thumbs. But that's not to say the cat wasn't represented. Cat-shaped bags were touted by Chloe Fineman and Janelle Monáe, Anna Wintour arrived in a cat print jacket, and Edward Enninful sported a cat pin on his tie.
Dimitrios Kambouris/Getty Images Entertainment/Getty Images
Sean Zanni/Patrick McMullan/Getty Images
Kevin Mazur/MG23/Getty Images Entertainment/Getty Images
Taylor Hill/Getty Images Entertainment/Getty Images
Then there were those who took it even farther, like Doja Cat, who stayed true to her stage name and attended the event as a silver-embellished cat in Oscar de la Renta, with facial prosthetics to really make the message clear. The singer stayed in character for much of the red carpet, even conducting an interview with Emma Chamberlain in meows, breaking only to take a hit of her vape pen.
But if Doja's look wasn't hyperrealistic enough for you, there was also Jared Leto, who arrived to the Museum in a full-on Choupette mascot costume, glistening blue eyes at all. The actor pranced around the steps for a minute before revealing his identity (and his custom Karl Lagerfeld outfit). Even when he ditched the suit, Leto continued tote around Choueptte's head throughout the night, even lending it to Aubrey Plaza at one point.
So what did the real Choupette think of these tributes? Well, she gave them two paws up. "Do I have a twin somewhere?!" Choupette (or more likely, her caretaker, Françoise Caçote, wrote on Instagram. "I rate @dojacat and @jaredleto outfits 100/10."
Snubbed from her post was Lil Nas X, who attended the Gala looking sort of like Choupette meets Game of Thrones' Night King meets the Creature from the Black Lagoon. The look was simple in the most extravagant way, comprised of silver bodypaint, facial prosthetics and embellishment courtesy of Pat McGrath. And while he too meowed through an interview, and wore whiskers, we don't blame Choupette for not recognizing him as part of her species.