Doja Cat and Jared Leto Have a Figurative Red Carpet Cat Fight
The singer embodied Choupette, Karl Lagerfeld's beloved cat.
---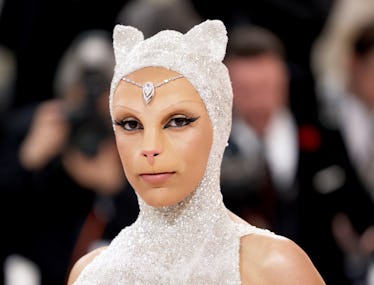 John Shearer/WireImage/Getty Images
Fans of Karl Lagerfeld's beloved cat Choupette were disappointed earlier this week to find out she would not be making an appearance on the Met Gala red carpet. "Many people invited me to walk the red carpet of the #METGALA2023 in tribute to Daddy, but we preferred to stay peacefully & cozy at home," she, er, wrote on Instagram. "We pay tribute to my Daddy every day since his parting and we are very moved to see one more day dedicated to him."
But in lieu of Lagerfeld's (rumored) heiress herself, the carpet was graced with not one but multiple Choupette-esque looks. Perhaps none as committed (or unsurprising) as Doja Cat.
The singer, who departed for the Met on Monday shielded by umbrellas, arrived in a silver, sparkling, custom Oscar De La Renta look complete with feathery train, cat ears and... a full face of cat prosthetics by Los Angeles-based artist Malina Stearns.
The whole thing looked vaguely plucked from an episode of The Twilight Zone, but the bold move is, at this point, to be expected of Doja, who has solidified her place as one of the most fun celebs on any red carpet.
Lest you think she was the only cat on the carpet, Jared Leto, not to be outdone and, who, if you may remember, carried a bust of his own head on the carpet in 2019, arrived in full blown mascot-core, donning a massive catsuit in Choupette's likeness.
As expected, the internet had plenty to say about both Leto's and Doja's meow-tfits, praising the latter star for her willingness to be playful on the carpet and being so unapologetically herself (while also being, very much, Choupette).