Janelle Monáe's Met Gala Look Was All About Transformation
The actress and musician tells the story of her big red carpet reveal.
---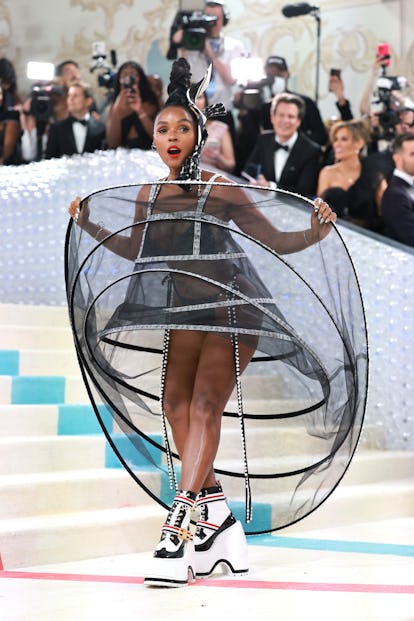 Photo by Theo Wargo/Getty Images for Karl Lagerfeld
At 2:30 AM on Tuesday, May 2, Janelle Monáe climbed onto the bar at Boom Boom Room in New York City's Standard Hotel to twerk. Wearing a black bikini accented by strands of pearls and rhinestones, and a pair of sky-high Thom Browne platform sneakers, the musician and actress performed alongside her dancers—who were nude, save for artful body paint—to a crowd that included Florence Pugh, Billie Eilish, Jenna Ortega, Priyanka Chopra and Nick Jonas, Ashley Park, and many more stars who had graced the Met Gala red carpet just a few hours earlier.
It was, in a way, Monáe's second performance that night, after having seized the Met Gala steps as a stage upon which to make her first major reveal for the evening. Donning a custom black-and-white Thom Browne coat and an elegant twist of fabric as a headpiece, Monae peeled her jacket off midway up the steps of the Metropolitan Museum of Art to expose a sheer pannier dress made of black tulle. The bikini underneath was the same one she wore on the bar at Boom Boom Room—and although she didn't need to, she lifted up the translucent hoopskirt for eager photographers on the carpet.
"It's a perfect threesome of me, Thom, and Karl," Monáe tells me with a laugh on Monday afternoon, while on the way to her hotel to get ready for the evening. "A creative-orgy-threesome—that's what I would call it."
All joking aside, the artist knew from the start she wanted her Thom Browne Met Gala look to "feel like an experience—one that takes you through the evolution of me." To achieve the end of "pulling back the layers of Janelle Monáe," all the way from her beginnings in the music industry when she donned a uniform of black-and-white tuxedos, the musician went through a few sketch options with Browne and his team. Of course, all parties involved had Lagerfeld on the brain. "Karl and I shared that black-and-white aesthetic, and I knew that with Thom's structure and whimsy, the look would come together," she says.
Her history with both brands is extensive, and constituted what Monáe describes as a "full-circle moment." "My first Met, I went with Chanel and Karl in 2011," she says. "He had reached out to me around my first album. I did a Pirelli calendar thing he was creative directing, and he sat in the middle row of the audience and sketched me while I performed. He gave the sketch to me backstage, and he was like, 'I love your black and white.' I was like, 'Uh, sir, I love your black and white.'" As for Thom Browne, "We've been collaborating for years because our minds are super similar, actually," Monáe explains. "When I first came on the scene as an artist, it was Chanel and Thom Browne that sent me my first suits. There's always been an appreciation for each other's imagination, and we've worked together so much, we understand one another, especially when it comes to telling a story."
Although Monáe says the story of the night was one "of evolution," she'd like to let viewers and fans decide on any narratives beyond that. "It's an art experience—and sometimes you want whoever's looking at that art experience to come to their own conclusions about it," she says.
Photo by GWR/Star Max/GC Images
Photo by GWR/Star Max/GC Images
Photo by Sean Zanni/Patrick McMullan via Getty Images
Photo by Gilbert Carrasquillo/GC Images
There's another art experience the Kansas City native has on the docket: her new album, which she said has her firmly in "music mode" at this moment (she even brought her own acoustic guitar to New York City, so she'd be able to practice in the makeup chair while getting ready). "I love listening to Afrobeats or the Feelin' Myself playlist [on Spotify,] but I'm also listening to my new album right now—only people in my circle have heard it. There are a couple songs that I already know I can't wait to listen to that center me and get me ready to celebrate."
Before any big carpet, Monáe sets intentions with her team, which she refers to as her "glamily." ("Isn't that cute?" she says, chuckling.) "Productions and events always bring a lot of anxiety to folks—they're designed that way," she says. "What I say is, we're not going to allow the bigness of it all to mess up our energy and our peace. We go into this experience wanting to have fun, and we want to walk away from it knowing that we truly did have a magnificent time."