Dua Lipa Is Providing All the Bikini Inspiration You Will Ever Need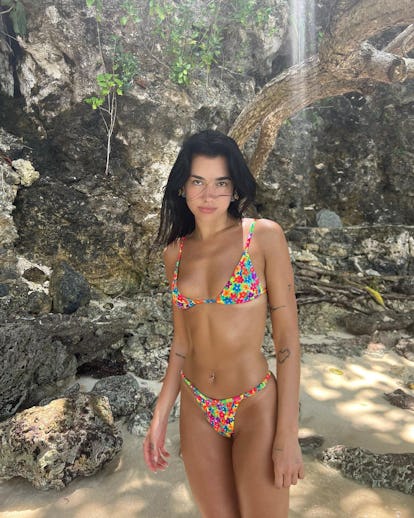 Instagram/@dualipa
Honestly, it kind of feels like spring came out of absolutely no where, and suddenly it's time to hide your winter coats in the back of your closet in order to make room for your more lightweight items. Don't worry, though, because if you feel wholly unprepared for the upcoming season of bikinis, coverups, and Summer dresses, Dua Lipa is here to help. The singer just shared two photo dumps from her recent trip to Jamaica and they have all the warm weather dressing inspiration you need.
Lipa's Instagrams feature no less than seven different vacation looks, but up first is a white crochet dress she wore over a white bathing suit for some moody pics on the beach. The monochrome beach ensemble is extremely chic, but it wasn't long before Lipa added some color to her wardrobe, first in the form of a neon floral bikini from Feline Swim.
In the third slide, the singer combined orange fishnet pants from Andreādamo spring/summer 2023 with a pink and orange ombré blouse from the brand that tied across her torso. The pairing created a gorgeous sunset-inspired palette, aided by the golden Moya body chain Lipa wore around her waist.
Her second post included even more color, starting off with a crochet, Hello Kitty-themed bikini with the character's face acting as the two cups on the top. Unsurprisingly, the set is from Lipa's go-to GCDS. Lipa is a big fan of Giuliano Calza's quirky cartoon-themed clothes, and has worn his Hello Kitty Moon Boots before, as well as basically every piece from his recent SpongeBob Squarepants-themed collection. The colorful looks were then rounded out by a three-piece set from Jacquemus' spring 2023 collection, a yellow and orange crochet bikini featuring matching buttoned mini shorts, and a vest on top, all embellished with crystals. Lipa accessorized the look with thick orange hoops and a pair of orange and green Jacquemus heels.
"All calm and stress freeee," Lipa wrote in the caption of one of her post, revealing that she spent a few weeks at Goldeneye, the island on Jamaica's Oracabessa Bay where Ian Flemming penned all 14 James Bond novels. Along with photos of her various looks from her trip, Lipa shared some of the food she indulged in, some of the sites she visited, and one shot from a night out at a local bar in a denim Givenchy buckled bralette top. And after looking through these photos, if you're not ready for warm weather, we don't know what to tell you.
This article was originally published on