Elle Fanning Got Karl Lagerfeld's Help in Styling Her Met Gala Look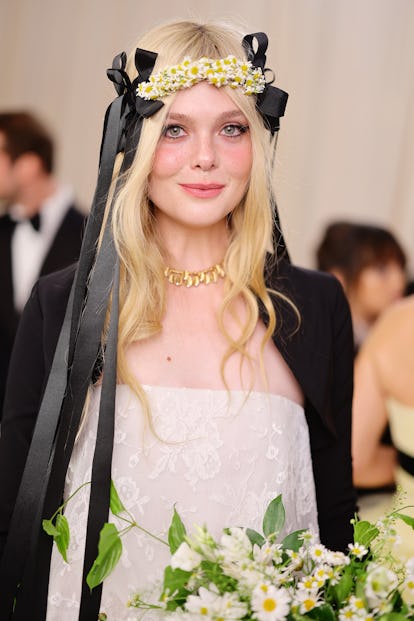 Matt Winkelmeyer/MG23/Getty Images Entertainment/Getty Images
When a Met Gala theme pays tribute to a specific person, as the 2023 event did with Karl Lagefeld, there's a bit of sentimentality added in to the mix. Those who had the privilege of knowing Lagerfeld during his life and career pulled from their experiences with the designer to come up with meaningful designs and presentations. During red carpet interviews, many spoke about the time they shared with Lagerfeld, but we would argue no one channeled their memories into an ensemble better than Elle Fanning.
Ahead of the red carpet on Monday night, Fanning took to Instagram to share an image Lagerfeld shot of her for his book, Little Black Jacket, when she was just thirteen. "When I first heard the Met Ball theme was honoring Karl Lagerfeld, I started to reflect on memories we had shared together," she wrote. "Everyone that was pictured wore the same black Chanel jacket and although we all wore the same, Karl let our individual styles and personalities inform how the jacket should be worn. For my portrait, he decided to place a daisy crown on my head and put the jacket over the white dress I arrived in."
When Fanning arrived to the red carpet, it was immediately clear how that experience with Lagerfeld inspired her Vivienne Westwood look for the evening. The actress wore a strapless, ivory lace dress with a tailored, cropped black crepe jacket on top. Fanning held a bouquet of fresh flowers as she walked up the steps while a matching flower crown, courtesy of milliner Stephen Jones, sat on her head, evoking the one Lagerfeld placed on there 12 years prior.
In her Instagram caption, Fanning explained that she was inspired, not only by the Little Black Jacket shoot, but also the classic Chanel bride, which she encountered for the first time at her first-ever fashion show, Chanel's fall 2011 haute couture presentation. "Karl's finale bride is always the ultimate," she wrote. "I wanted to combine the innocence of the portrait he took of me with Karl's tradition of ending each show with his vision of the Chanel bride." She explained that her original idea didn't include lace, but she changed her mind when she saw Andreas Kronthaler's use of the fabric in the recent Vivienne Westwood bridal collections. "I wanted to include a little black jacket in my look for obvious reasons and I tucked my hair inside as a nod to the gesture of a groom throwing a jacket over his bride's shoulders at the end of the night," she said.
There was even meaning behind her jewelry for the evening. Fanning explained that, on the Little Black Jacket shoot, Lagerfeld liked that her jewelry was "eclectic and put together the way only a 13 year old would do it." So, on Monday she wore a coffee bean necklace from Cartier's Grain de Cafe collection, the same style that Grace Kelly once wore in a 1955 royal portrait. "This vintage piece is not my own, but is 'my something borrowed' for tonight," the Cartier ambassador clarified. The result of all these decisions was a standout look, created with the help of many different people, including, in a way, Lagerfeld.