Elsa Hosk Had a Couture Wardrobe Malfunction at Cannes (Spoiler: It Was On Purpose)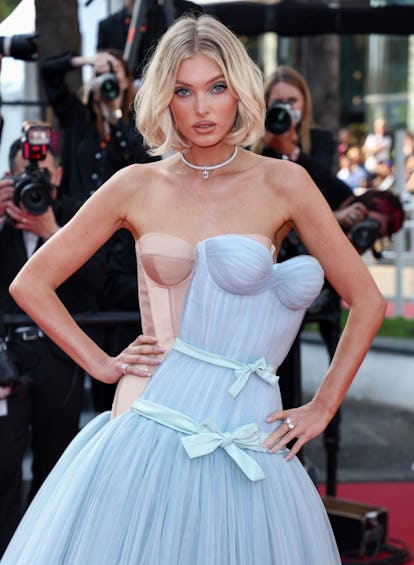 Mike Marsland/WireImage/Getty Images
While a wardrobe malfunction may be one's worst nightmare anywhere, let alone on the Cannes red carpet, Elsa Hosk's couture slip up proved that they're not all so bad. Yes, style mishaps are sometimes unavoidable—thankfully for Hosk, her gravity-defying gown is in fact meant to look as though it's falling off the body.
For the premiere of a La Passion De Dodin Bouffant, Hosk wore a Viktor & Rolf couture gown that featured a slightly askew tulle dress overlayed on top of a nude corset. The powder blue ensemble first debuted on the runway during the brand's spring/summer 2023 couture collection.
While designers Viktor Horsting and Rolf Snoeren are known for surreal and sometimes outlandish designs, their most recent couture outing took that sentiment to another level. Along with Hosk's strapless gown, there were other equally as dimensional ensembles (some so big that models had to be directed on the runway through earpieces). "It's an absurd take on the stereotype of a couture ballgown," Snoeren said to Vogue Runway of the inspiration behind the collection.
Though the collection garnered lots of attention on social media and even spurred a few memes, Hosk is seemingly the first star to wear one of its pieces on the red carpet. Which is surprising given the virality of the collection and the impact these designs have on the big stage.
But given the sheer size of some of these creations, they may in fact be too difficult to transport. On the carpet, Hosk let the gown do much of the talking—she accessorized with a diamond Messika necklace and ring and strappy heels.
The Swedish model has been a staple on the Cannes red carpet throughout her career, sporting romantic and sometimes risky looks similar to the one she wore this year. In 2019, she wore a feathered high-low Alberta Ferretti gown for the premiere of Sibyl.
Three years later, she again sparkled in another runway pull—this time, an all pink Valentino gown (from the brand's fall/winter 2022 collection) complete with opera gloves and a dramatic train.