Fendi Brings Arnaldo Pomodoro's Gigantic, Brutalist Sculptures to Rome HQ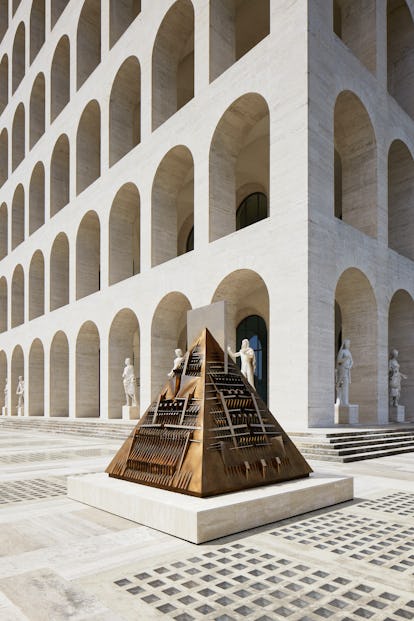 Courtesy of Fendi
You may have seen the Italian sculptor Arnaldo Pomodoro's spherical, metal artworks at the De Young Museum in San Francisco, Tehran's Museum of Contemporary Art, or amid the greenery at the Hirshhorn Sculpture Garden in D.C. But you've likely never viewed his geometric bronze works—some of them gigantic, like the globe on Atlas's shoulders; others, small enough to sit on a table—inside Fendi's Rome headquarters.
And yet, that's exactly where his pieces can be found, at the exhibition "Arnaldo Pomodoro. Il Grande Teatro delle Civiltà (Arnaldo Pomodoro. The Great Theatre of Civilizations)," on view through October 2023. The show, which is currently open to the public at the Palazzo della Civiltà Italiana—also known as HQ for the Roman label—is a partnership between Fondazione Arnaldo Pomodoro and Fendi.
According to the brand, the exhibition spans over 70 years of Pomodoro's artistic endeavors, culminating in nearly 30 works in both the indoor and outdoor spaces of the Palazzo. Sprinkled among the pieces on view are photographs, sketches, and other personal documents belonging to Pomodoro between the late 1950s and 2021, many of which have never been shown publicly before.
And of course, there's a fashion element to the partnership: specifically, a Peekaboo bag reinterpreted by Pomodoro himself. This brand-new twist on a Fendi signature is part of the Canvas Peekaboo project, which calls upon artists, designers, and other notable figures to create unique pieces for the house. Pomodoro's version of the handbag is fittingly covered in spikes and painted bronze, gilded and dangerously chic.