Florence Pugh Opened Harris Reed's LFW Show With Dramatic Flair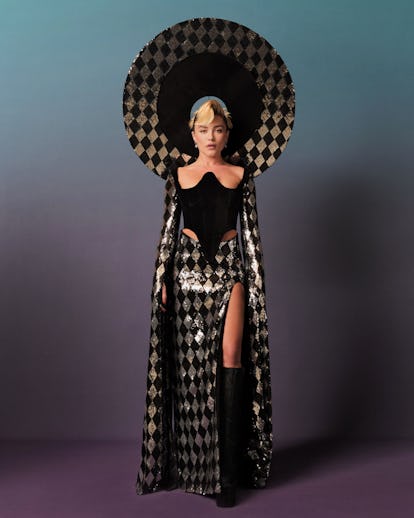 Marc Hibbert
Harris Reed's William Shakespeare-inspired fall 2023 collection titled "All The World's A Stage," may have kicked off London Fashion Week on Thursday night, but there was an innate Hollywood flare to it. For starters, the show began with a monologue, written by Reed and performed by his friend, Florence Pugh. The actress glided around the show space in the Tate Modern's Turbine Hall in a silver and black sequin harlequin dress with long, dramatic sleeves, a sculptural corset, and a matching halo-style head-topper.
"Clothing has a transformative power, whether for an actor, or simply a performer on the stage of life," she read. "The art of dressing up allows us to express who we truly are, creating a safe space to inhabit in a sometimes judgmental world. Our costumes can change who we want to be seen as, and who we are destined to be. I invite you to embrace the lamé and sequins of life, because all the world's a stage."
What followed was a collection featuring the lamé and sequins of life (the gold lamé in the show was taken from old theater curtains). "I think London Fashion Week needs a bit more drama," Reed said, according to the Evening Standard. "I think we get overlooked sometimes. It's a very American showmanship...let's make a big moment. I am unapologetically myself."
So, Reed tapped his "dear friend" Pugh for the task, and she was more than happy to oblige. "@harris_reed asked me to speak his words," she wrote on Instagram following the performance. "Only as I was learning them did I realize that my 13-year-old self was screaming the same thing. You wear yourself. And what you want to bee seen as."
But the excitement didn't end after Reed took his bow. Following the show, Pugh mingled with some of the VIPs in the front row, including Jodie Turner-Smith and Lisa Rinna. Pugh posed for a picture with the former Real Housewives of Beverly Hills star and revealed to the photographer that this was their first time meeting. "But we know each other really well," Pugh said. The actress, who watches Housewives, and Rinna have been DMing for the past three years. "When she came to say hi to me I was like, 'Old friend!" Pugh said.