Gabrielle Union Takes the Burberry Check Print to Trippy Territory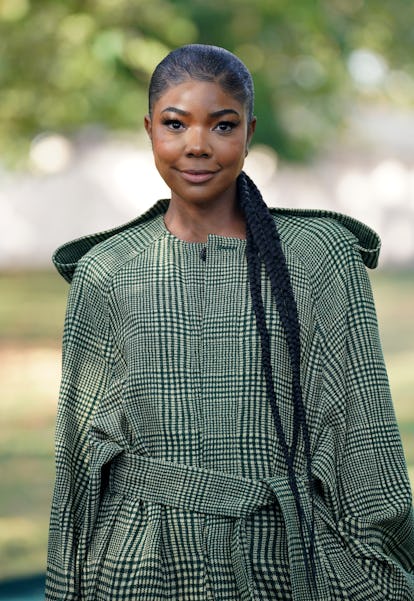 Lucy North - PA Images/PA Images/Getty Images
There's nothing more synonymous with Burberry than their two-toned check print. While you're use to seeing it in its traditional black, red and beige format on cashmere scarfs or the lining of their trench coats, Gabrielle Union spiced things up a bit on Monday.
The actress stepped out to Burberry's summer 2024 runway show at London Fashion Week wearing a full, black and white look from the brand's recent resort collection. And instead of being only a small detail, the Burberry print was certainly the focal point of Union's ensemble—but not in the way you'd expect.
Fittingly, Union sported an oversized trench coat complete with a cinched, belted waist and oversized statement sleeves. The majority of the outerwear piece followed a traditional trench silhouette, that is, until just near the knee area. After dominating much of the top half, the check print then switched into a warped, almost psychedelic look towards the hemline. Buttons traveled down the front of the piece as did two statement straps at the shoulders.
The brand's new creative director, Daniel Lee, has made it part of his tenure to reconstruct the Burberry codes—so it's no surprise that he did so with perhaps their most recognizable trademark: the Princes of Wales check. Because while Lee's mismatched print still feels very Burberry it also leans things towards a more modern direction. Things got even more fresh, though, with the rest of Union's ensemble.
Below the trench coat, which almost functioned as a dress, the actress donned a pair of black and white tights. They too were designed in the look's trippy print with even larger checks than the rest of her jacket. While, yes, the tights had an almost Balenciaga sock boot feel, they also added another statement detail to the look.
For footwear, Union went with a pair of printed kitten heel sandals. While they had a similar motif, the sole of the sandals came in a yellow color—the only pop of color in Union's ensemble that broke up the black and white. Apparently, sandals can work for fall as long as you have a sturdy pair of tights to wear them with.
To finish things off, the 50-year-old carried a multi-color mini shoulder bag accented by gold hardware. With fall quickly approaching, Union has us majorly rethinking our one note trench coats.