Hailey Bieber & Kendall Jenner Head to Pilates in Two Takes on Leather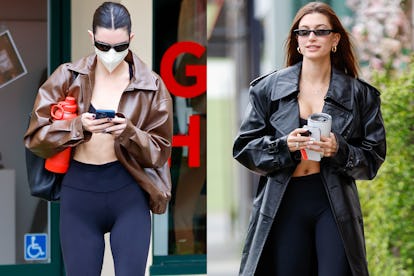 Rachpoot/Bauer-Griffin/GC Images
If you thought gym style in 2023 was going to be entirely about comfort—stretch leggings, oversized tees, cozy pullovers—you're not going to be too pleased with what Hailey Bieber and Kendall Jenner put together for their first pilates appointment of the year. But if you're the kind of person who elevates every look whether you're about to step onto a seven hour flight or you're heading to the doctor's office, take note. Because these two models just proved that gym style doesn't not need to be low key, and one well-picked piece can bring those leggings and sports bras to a whole new level.
On Tuesday, Jenner and Bieber headed to a workout class together and were spotted emerging from the studio after the fact. Both models were clad in the classic uniform of black leggings and a black sports bra, but it's how they accessorized those pieces that's important. Jenner kept things fairly simple, opting for white tube socks over her black Alo leggings, Asics running sneakers and a black tote bag. A chocolate brown leather bomber jacket is how she chose to elevate the ensemble.
Bieber, meanwhile, who has never met a trench coat she didn't like, threw on a leather Saint Laurent offering from the brand's fall 2022 collection over her Set Active flare leggings in order to stay warm after her workout. Leather mules from Puma, and a pair of teeny tiny sunglasses from The Attico continued to blur the line between cast member of The Matrix and patron of a pilates studio.
The joint workout comes after the duo returned from a New Years trip to Aspen, where puffers were their coverup of choice for the most part. While there, they rang in 2023 with Kylie Jenner, Justin Bieber and a handful of other friends. Hailey, meanwhile, took to opportunity to re-up her approval of the controversial exposed thong trend with the help of her Mugler NYE dress. Now that they're back in California, however, we will have to wait and see if the whale tail pops out for another siting.