Hailey Bieber Shows Off Her Whale of a Tail
She paired it with a tiny orange bikini top.
---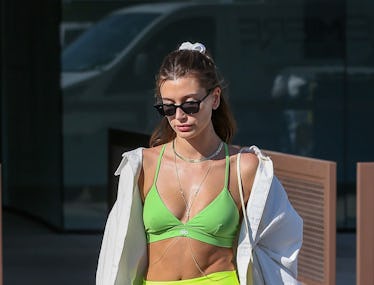 Bellocqimages/Bauer-Griffin/GC Images/Getty Images
Hailey Bieber loves the beach so much she is slowly merging with it. In a post on Instagram this week, she modeled her tiny orange bikini top paired with a long sand sculpture mermaid tail. The image was part of a zine her skincare company Rhode put together as she promotes the latest flavor of her brand's peptide lip treatment.
While this isn't a wearable look, it was well accessorized. The 26-year-old model paired her bikini and fins with a thin chain wrapped around her toned torso, a pearl choker, large orange drop earrings, and a pair of small rectangular black sunglasses. The carousel included some behind-the-scenes footage of Bieber's mermaid photo shoot, a close up of her brown bikini bottoms from behind, and some sultry shots of Bieber enjoying her passionfruit flavored product.
"Mood all summer long," she captioned the post. "Inside the rhode zine we made for passionfruit jelly... Passionfruit jelly launches Thursday 4/6 9am pst. Only on rhodeskin.com @rhode."
She shared a separate carousel that included some more beach vacation pics, including a shot of herself in a leopard print bikini and blue bucket hat where her wedding ring is prominently displayed.
And yet another series of pics showing off that brown bikini again with a cropped wetsuit top. Accessories-wise, Bieber is making a real case for over-sized wrist bangles.
These are some very sexy shots for a lip balm, but in summer 2022, Bieber told People that sexiness is part of her "beauty philosophy."
"My beauty philosophy has definitely evolved over the years," she said. "I look back at when I was 16, 17, even 20 and I used to love darker eye makeup and heavier contouring. I was always dedicated to healthy skin though. And now at 25, I'm at the point where I have never felt more beautiful, never felt sexier, just embracing my skin, embracing my natural hair color. I didn't even know what my natural hair color was for 10 years because I've been dyeing my hair since I was 13...It might be completely different in another five years — and even more different the five after that. But right now, for me, less is definitely more."