Hailey Bieber Packed Her Best Party Dresses For London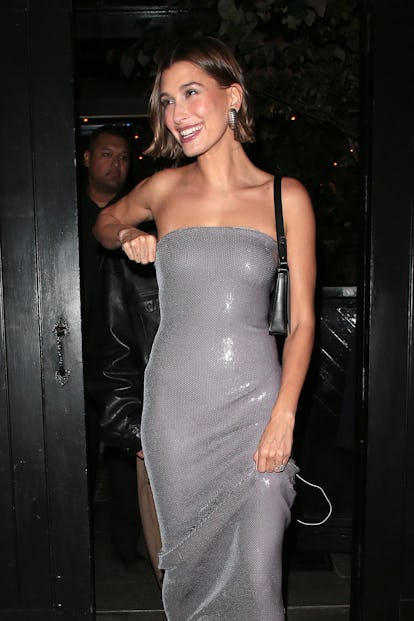 Ricky Vigil M/Justin E Palmer/GC Images/Getty Images
We would like to see the load of suitcases Hailey Bieber brought along with her for her trip to London. The model hasn't even been in the British capital for a week and she has already pulled out so many looks, we can't help but think she traveled with her whole closet.
Bieber is currently in London celebrating the UK launch of her beauty brand, Rhode, and has been busy flitting about town for various promotional events and parties. Of course, she came prepared, bringing a full wardrobe of party dresses across the pond. From vintage to lingerie-inspired, to the simple yet effective dress that everyone is going to want to get their hands on this summer, Bieber has worn them all in just a few short days, a sign that party dress season has officially begun.
The model kicked off her trip on Monday night with dinner at Chiltern Firehouse with her husband, Justin Bieber. Despite what seemed to be a more casual evening compared to what was to come, Hailey pulled out a gorgeous vintage Mugler for the night, for the photo op if nothing else. The model showed off the black mini dress with a sculpted bust and velvet details on her Instagram story, while announcing her arrival in London.
But that was just the beginning, and Bieber's suitcases were filled with many more gems to be unveiled. Next, she showed off a trio of looks on Instagram. It's unclear exactly why she put them on, other than for a photo op, but they definitely got the job done in that respect. On Wednesday, Bieber shared a carousel of images featuring the three very different looks. The first was a Sportmax fall 2023 dress featuring a cream corset with garter belts attached to a silk skirt. Next, she covered up a little bit with the help of a black turtleneck Alaïa dress. The threesome was then rounded out by a white, gathered Proenza Schouler strapless top, paired with wide-leg pants from the brand.
Everything culminated on Wednesday night, when Bieber held her big launch event at what seems to be her favorite establishment in London, Chiltern Firehouse. The occasion called for Bieber's simplest look of the trip, a silver sequin-covered strapless dress from N21 pre-fall 2023. Bieber wore the look with gray pumps, large silver earrings, and a black shoulder bag, keeping her chin-length hair mostly natural with a tousled look.
Likely, Bieber isn't done breaking out the party dresses in London just yet, but in a few short days, she has already provided enough inspiration to help us revamp our own summer wardrobe, so at this point, anything else is just a bonus.