How To Shop eBay For Your Signature Timepiece
From vintage finds to the latest luxury styles for less.
---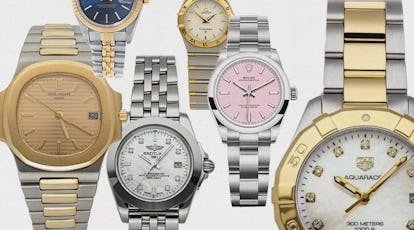 Up until just a couple of years ago, it never occurred to me that I might be a watch person. If I were to buy luxury, I would buy a handbag, jewelry... a sweater from the Row. It is only this year that I now know that I really want a watch, and I've learned that eBay is a good place to start. But there are so many questions to consider when buying that perfect signature timepiece: Is Rolex your style? Or are you feeling another Swiss brand? Do you want to buy second-hand or new? Do you want a smaller piece, or are you in the 'go big or go home' camp? And, most importantly, when shopping online for something at this price point, how do you make sure you're getting the real deal? These are all questions I've asked myself, and luckily for you, I've done my research.
Let's start by addressing the most pressing matter: authenticity. One great thing that came out of the year 2020 is eBay's "Authenticity Guarantee." Basically, this service ensures that most watches $2,000+ will be verified by independent third-party authenticators — meaning you don't have to worry about breaking out into hives anytime your mouse hovers over the 'Buy it Now' button. Just look for the blue check next to each listing above $2,000 and above. Rather than indicating internet clout (although, not no…), this little blue check is your emotional support animal when shopping luxury timepieces. When you see it, you know that the watch you're eyeing has undergone a multi-point inspection and will even come with an authenticity report card that can be used to further boost future resale value. We love an investment piece.
Now, onto the question of finding the best fit (literally and figuratively). A luxury watch is such a personal purchase, and you obviously want to get something you'll wear frequently and with love. eBay has such a wide array of incredible pieces — potentially overwhelming at first, but ultimately, the world is your oyster. Whether you're debating between a Patek Philippe or an OMEGA, a daintier 28mm piece or a 40mm (for that borrowed-from-the-boys look), something once-loved or brand new — eBay's luxury watch assortment truly has it all.