Irina Shayk and Stella Maxwell Go Sheer and 'Tropigoth' in Miami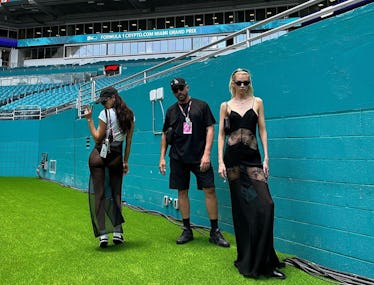 @irinashayk
If you're going to attempt to push the recent celebrity craze for sheer-fabric clothing to extremes, Miami—where a mini skirt is considered the highest kind of formal wear—is the city in which to do it. Models Irina Shayk and Stella Maxwell understood that Magic City vibe this weekend while in town for the second annual Miami Grand Prix. The two Victoria's Secret alumni joined their friend, the fashion designer Riccardo Tisci, for the big F1 race, and coordinated in little black dresses that covered, well, very little. In fact, the trio seemed to have mastered a certain style that locals call "Tropigoth" (basically: all black, but appropriate for the humidity).
The top half of Shayk's Sunday look, at first glance, seemed to exemplify a certain kind of "model off duty, but don't look at me" style. She paired a black baseball cap, black wraparound sunglasses, and a chunky silver chain with a white babydoll tee. Layered over that, however, was a sheer maxi-length dress. Aside from some killer heels and a purse, there wasn't much left to the outfit, aside from socks and underwear. Some of the model's Instagram followers commented by openly wondering if she had forgotten her pants, but maybe they just don't understand the sartorial rules of Pitbull's Miami.
While Irina went with mesh, Maxwell opted for something lacy, but still semi-transparent. Her day dress mixed opaque black with a chevron patterned lace, creating a peek-a-boo effect. Later in the night, as shown on her Instagram, Maxwell changed into another black lace dress that was a bit more buttoned up.
Shayk couldn't help but include this "cheeky" photo in her Instagram carousel.
While Tisci didn't opt into the sheer moment, he did keep the trio's outfits in sync by also wearing all black.
Only in its second year, Miami's stop on the F1 Grand Prix has become quite the celebrity magnet. The race—which begins at the Hard Rock Stadium—also attracted the likes of Roger Federer, Serena Williams, Nick Jonas, and, most intriguingly, Shakira and Tom Cruise.