Jenna Lyons Put a New York Spin on Kentucky Derby Fashion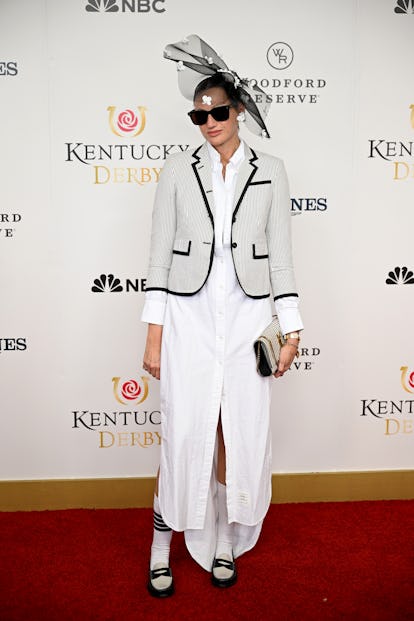 Stephen J. Cohen/Getty Images Entertainment/Getty Images
Leave it to Jenna Lyons to bring her particular New York style sense to the Kentucky Derby. The former J.Crew Creative Director and soon-to-be Real Housewife of New York attended the annual event held at Churchill Downs in Louisville Kentucky on Saturday. In a sea of pastel fasteners and vibrant prints, Lyons stood out (for good reason) in black and white—in fact, her look would have been entirely on point for last week's Karl Lagerfeld-themed Met Gala.
Lyons opted for a piped pinstripe blazer, white button-down shirt, and striped socks by Thom Browne. She accessorized the look with J.Crew loafers (of course), a Saint Laurent bag, bold sunglasses, and a tulle hat adorned with white flowers.
Joining J.Crew at 21-years-old Lyons ascended to the roles of Creative Director and then President, imprinting her design signature and personality throughout several key facets of the retailer. After departing the brand in 2017, Lyons starred in the 2020 reality show Stylish With Jenna Lyons (which followed designers vying for a spot on her team) and later co-founded the beauty company LoveSeen.
In late 2022, she was announced as a cast member in the upcoming reboot of Bravo's hit series, The Real Housewives of New York. During an appearance on The Tonight Show With Jimmy Fallon, Lyons said of her upcoming appearance: "When I left J. Crew, I was like, 'What am I going to do?' and then I went on a podcast and they asked me if I had heard there was going to be a reboot of RHONY and they said, 'There's never been an openly gay woman on "Housewives"' and I was like, 'Hmm…'"
Lyons will join Sai De Silva, Ubah Hassan, Erin Dana Lichy, Jessel Taank, and Brynn Whitfield for the fourteenth season of the show. The upcoming season features an entirely new cast and will premiere on Bravo July, 16.