Jenny Slate and Marcel the Shell Coordinated Their Oscar Looks
The Academy Award nominee was overcome with emotion when she first saw her Thom Browne gown.
---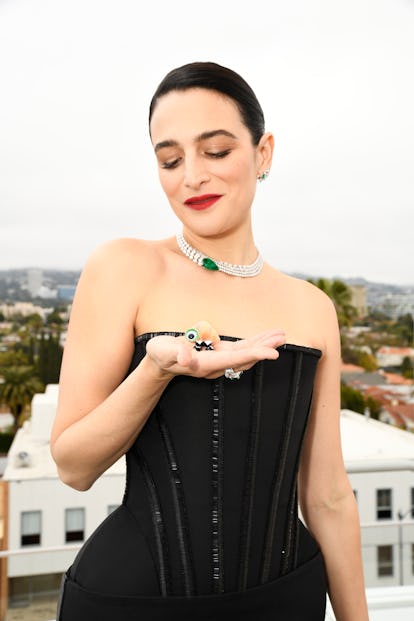 Photograph by Emma Louise Swanson
Thirteen years ago, the actress, comedian, and writer Jenny Slate was packed into a tiny hotel room with a bunch of friends, awaiting an imminent firing from her post on SNL. At that time, she was a cast member on the NBC late-night show, but things weren't working out. Stress flooded her veins and claustrophobia began to set in. To combat the feelings of anxiety, Slate started talking to herself in a nasally, cartoonish voice. That voice would become the character Marcel the Shell, who grew from a means of self-soothing to a twee YouTube star in the series Marcel the Shell With Shoes On to a 2023 Oscar nominee. Slate and her ex-husband and creative collaborator Dean Fleischer-Camp took Marcel from the Internet to the Telluride Film Festival in 2021, where the animated comedy featuring the soft-spoken part-alien-part-shell was met with adoration. The movie would go on to receive a wide release—then, it was nominated for the Academy Award for Best Animated Feature Film.
Although Marcel the Shell With Shoes On did not take home the trophy on Sunday evening at the 95th Academy Awards, the impact of the indie YouTube videos making their way to the silver screen (and the champagne carpet) is monumental in its own. And on the Friday before the Oscars, Slate was driving through rainy Los Angeles, ruminating on that very topic.
"There's a lot about this that makes me feel like a middle schooler again," she told me over the phone with a laugh. "There's a big part of me that will always be like, Are you sure I'm supposed to be here? Am I gonna get kicked out? Is someone gonna make fun of me? Am I gonna fall down by mistake?"
Slate said that for most of awards season, she's felt a healthy amount of impostor syndrome. "I thought if I was ever in a movie that was nominated for an Oscar, I would probably be playing a Jewish person from the past," she added. "An immigrant on Hester Street, or in a Holocaust drama. How weird is it that I, a child from Milton, Massachusetts with zero connections to the entertainment industry, am finding myself walking into Oscar weekend?" But an enormous help in making the actress feel her "truest, most powerful, party-time spirit" she said, is the Thom Browne gown the New York-based label created especially for her for this year's Academy Awards—Slate's first ever. The jet-black, corseted, silk faille dress featured exquisite beading on the boning, and a dramatic pannier silhouette. The actress paired her look with emerald and diamond jewelry from Gismondi 1754, a slicked-back hairstyle, and a bold red lip.
"When my stylist, Monty Jackson, came to me with the unbelievable news that Thom Browne was offering to make me a custom gown for the Oscars, we both took a moment to try and catch our breath," Slate said. "I don't think either one of us has done that yet, though." The design team at Thom Browne sent sketches to Slate, who has worn the brand's signature suiting on past red carpets. This time, though, she went for a completely different look compared to the quirky, preppy, shorts-and-knee-socks synonymous with the house. For the 2023 Oscars, Slate requested a corset shape exclusively, because "these are the things about my body that I like to celebrate now." The built-out hip cushioning was also a must. The result: a two-piece, quiet stunner, with lacing "from the very, very top of the corset all the way down to my toes."
"I just thought, what is the most me of these beautiful costumes that we wear in this brief moment of glimmering success?" Slate said.
For her first fitting, the actress invited representatives from Thom Browne to her house; she made them cookies and put out clementines and seltzers ("But really, I was hoping that everybody was gonna drink wine," she added). "I always knew it would be beautiful, but I started crying when I saw it for the first time," she recalled. "I just felt like, oh man, is this what Michelle Yeoh is doing while she's putting on her gown? Is she bursting into tears? What are the superstars doing? Because I wanna act like them. Well, generally, I would just love to be exactly like Michelle: she's nice, fun, and loves to drink Champagne—a true star. She's the person who's like, Well, why don't we all just go back to my hotel suite and party?" In addition to making Slate's gown, Thom Browne also crafted an after party dress; suiting for the actress's husband, Ben Shattuck; gave Slate's daughter Ida a teddy bear wearing a Thom Browne suit—and dressed the man of the hour, Marcel the Shell, in a bowtie and spectator shoes. Not bad for two Oscars first-timers.
Typically on Oscars Sunday, Slate hosts a watch party with friends, family, and colleagues; they make punny hors d'oeurves that riff on the names of the nominated movies ("I just hope you will have pigs in a blanket, or some kind of hot dog thing, for Everything Everywhere!" Slate said after asking whether I'd be making snacks to watch the Academy Awards). This year, Slate said she'll be giving her daughter "a million kisses on different parts of her face" before heading to the hotel to get ready for the big event.
I mentioned to her that there's a funny parallel at hand here: the idea for Marcel the Shell With Shoes On was spawned in a room with hordes of other people, while Slate was experiencing a range of overwhelming emotions. And on Sunday, March 12, once again, she would find herself in a room with hundreds of folks, feeling all the feels, in celebration of the one-of-a-kind character she made. "I'm a tiny bit nervous, but not as nervous as, characteristically, I might be," she said. "And I think that's because I believe in our work. I have zero doubt about why our group of people who made Marcel is in that room."