Jeremy Scott Is Leaving Moschino After Ten Years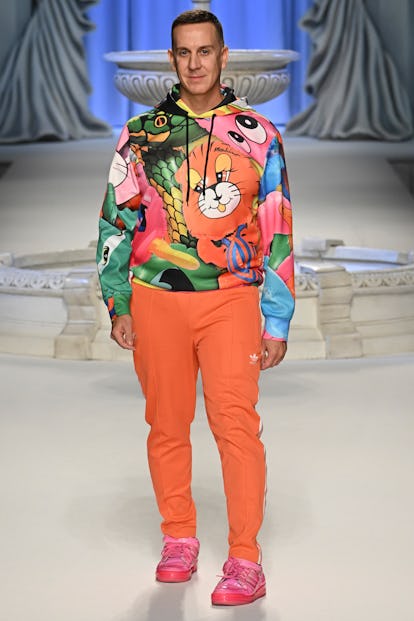 Victor VIRGILE/Gamma-Rapho via Getty Images
Jeremy Scott is officially ending his time as the creative director of Moschino, the brand announced on Monday. Scott originally stepped into the role in October 2013, and has spent the last decade guiding the tongue-in-cheek high fashion aesthetic originated by house founder, Franco Moschino.
"These past 10 years at Moschino have been a wonderful celebration of creativity and imagination," Scott said in a statement. "I am so proud of the legacy I am leaving behind." Massimo Ferretti, the chairman of Moschino's parent company, Aeffe, also spoke on the news, saying, "I am fortunate to have had the opportunity of working with the creative force that is Jeremy Scott. I would like to thank him for his ten years of commitment to Franco Moschino's legacy House and for ushering in a distinct and joyful vision that will forever be a part of Moschino history."
After debuting his own eponymous brand in 1997, Scott quickly gained the attention of stylists, editors, proto-hypebeasts and celebrities (even has some uptight fashion purists have always remained wary of his designs). His first collections paid homage to films like David Cronenberg's Crash, the '80s, and flight attendants with his spring 1998 collection, "Duty Free Glamour." It was extremely fitting, then, when the designer was named as the new creative director of Moschino—a house founded on social commentary through fashion—taking over for Rosella Jardini, who held the post for 19 years following the death of Moschino in 1994.
"It's such a no-brainer, and those kinds of offers don't come around very often," Scott told W at the time. "You don't always find that one person who can fit the house DNA seamlessly and also bring something new. One thing I have that the majority of other designers don't is humor. That's distinctly my approach, and it was distinctly Franco Moschino's, too."
His first collections with the brand set the tone for his tenure. His first runway show is still considered by some to be Scott's best-ever for the brand, featuring an aesthetic that can only be described as the love child of Ronald McDonald and Coco Chanel (with some SpongeBob imagery and grocery store brands thrown in there as well). It was a sneak peak at the jabs Scott would take on consumerism and capitalism throughout his time with Moschino.
With the brand, Scott would go on to be the purveyor of humorous dressing and a must-have for celebrities from Angela Basset and Julia Roberts to Katy Perry and Gwen Stefani. Scott's Moschino also became a Met Gala go-to, especially at 2019's Camp: Notes on Fashion-themed fete. It is unclear if we will see Scott's designs for Moschino at the Met this year, which is set to honor Karl Lagerfeld. It would seem like a terrible missed opportunity if he opted out, considering the connection that has grown between Scott's Moschino and Lagerfeld's Chanel during their two tenures at the brand. Lagerfeld once told Le Monde magazine that Scott was the only designer that could take over Chanel after him, and just recently, Scott told People he was "thrilled for [Lagerfeld] to have this moment and this honor," calling the designer his "good friend and mentor."
Of course, the obvious next question is: Where will Scott go next? The designer put his own brand on hold in 2019, so it's very possible he could return to his roots and revive Jeremy Scott. Or maybe, he has something else up his sleeve. He could also do a complete 180 and head over to another house—it might finally be time to fulfill Lagerfeld's wishes and take over Chanel, though Virginie Viard seems to have that gig under control. What we do know, is that he is not retiring a la Law Roach. "As I close this chapter, I am filled with excitement and anticipation and can't wait to share with you all what I have in store for you next," the designer wrote on Instagram. Hopefully, we won't have to wait too long to hear what he has in mind.