Everything You Need to Know About the 2023 Met Gala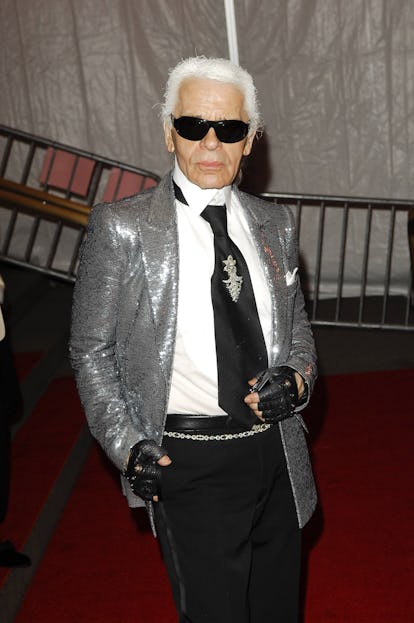 Ray Tamarra/Getty Images
The current parade of awards show red carpets may be leaving you yearning for something more. More glamour, more extravagance, more celebrities. Well, lucky for you, the 2023 Met Gala is just around the corner, and it will likely deliver all that and then some. After last year, which delivered two Galas in the span of just nine months, waiting a full year for the next one may have seemed like an impossible task, but the first Monday in May is incoming, and new information about the event is being revealed every day. Here, we're breaking down everything we know about the 2023 Met Gala, from the coinciding exhibition to the star-studded hosts.
What's the theme of the 2023 Met Gala?
Back in September, it was revealed that the 2023 Met Gala will honor the late Karl Lagerfeld with the theme, "Karl Lagerfeld: A Line of Beauty." Of course, a coinciding exhibition will be held showcasing the designer's work throughout his 65-year career. About 150 pieces from Lagerfeld's time at Balmain, Patou, Chloé, Fendi, Chanel, and his eponymous label will be on display, as will accompanying sketches showcasing the designer's "unique methodology." The exhibition will open on May 5th, the Friday following the Gala, and will run through mid-July.
What is the dress code of the 2023 Met Gala?
Considering the theme of the event and exhibit, it's fitting then, that the dress code for the Gala is "In honor of Karl." This doesn't necessarily mean every attendee will be wearing Lagerfeld's pieces, though there are many to choose from, and likely a lot of guests will go this route, pulling from Chanel, Fendi, and maybe even the Patou and Chloé archives. Those wishing to work with current designers, however, will likely just take inspiration from both Lagerfeld's expansive portfolio and his own idiosyncratic personal style. So, expect to see a lot of black ties, starched collars, and white ponytails, as well as a handful of fingerless gloves and maybe one or two Choupette references on the red carpet this year.
When is the 2023 Met Gala?
Per usual, the Met Gala will be held on the first Monday in May, which this year falls on the first. What better way to start off the month than with fashion's biggest night?
Who's hosting the 2023 Met Gala?
This year, Michaela Coel, Penélope Cruz, Roger Federer, and Dua Lipa, along with Anna Wintour, are the Gala's official co-chairs. This array of stars really encompasses all types of celebrity. Federer is one of tennis' all time greats, and though he announced his retirement last year, he still remains a representative of the sport, as well as a public figure thanks to his many endorsement deals, business partnerships, and philanthropic efforts. Lipa, of course, is one of the world's biggest pop stars and a three-time Grammy winner who recently finished off her Future Nostalgia tour. She has also become a bonafide fashion It-girl as of late, often wearing looks just days after they walk the runway, and harboring relationships with the world's most sought after designers.
Then, there are the Hollywood stars in Coel and Cruz. Coel represents an up-and-coming, multi-faceted talent, thanks to the success of her two shows, I May Destroy You and Chewing Gum. Last year, she starred in Black Panther: Wakanda Forever, and used the press tour for the film to prove her fashion chops. And, of course, there's Cruz, a bonafide A-Lister, but also a Chanel girl through and through. She has been an ambassador for the fashion house since 2018, and helped to close out Chanel's fall 2019 show, Lagerfeld's last for the brand.
As Vanessa Friedman pointed out, this is the first time in a while that the hosting squad doesn't include a designer or business insider of any sort. Tom Ford held that role for the past two Galas, with Alessandro Michele acting as a host in 2019. Including Virginie Viard, the current creative director of Chanel, may have been the obvious choice, but alas no designer was included this year.
Who will attend the 2023 Met Gala?
The Gala is still months away, so it's hard to say exactly who will be walking that red carpet when the night finally arrives. Likely, many of the Chanel girls will be in attendance, like Margot Robbie, Lily-Rose Depp, Kristen Stewart, and Margaret Qualley. In addition, you can probably expect the Gala mainstays like Blake Lively, Sarah Jessica Parker, and the usual model contigent featuring the Hadids, Paloma Elsesser, and Hailey Bieber. Last year, the Kardashians came out in full force, so it wouldn't be surprising if that happened again. And then there's Zendaya, who missed out on the past two Met Galas, but hopefully will make her return this year. In addition, there will be the less-fun, but still important guests like the donors (it's easy to forget, but the Met Gala is a fundraiser). Usually, larger fashion houses and brands like Instagram and YouTube buy tables and fill them up with their celebrities of choice, so expect some of the year's biggest stars, and maybe just a few wild cards.