Law Roach Makes His Debut as a Model a Day After Announcing His Retirement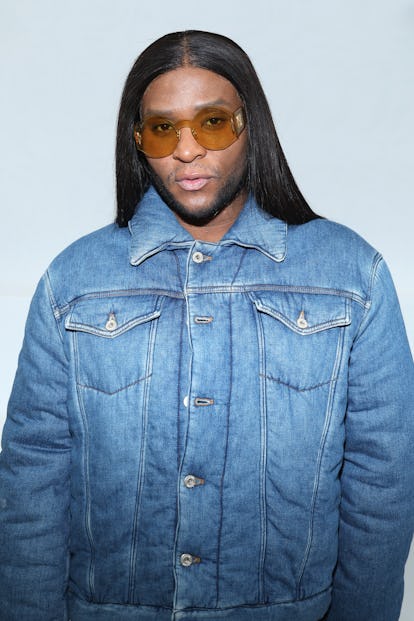 Pascal Le Segretain/Getty Images Entertainment/Getty Images
Since announcing his retirement from celebrity styling on Instagram, Law Roach has continuously clarified exactly what he meant by his statement. For example, he's not completely done with the world of fashion, he's simply moving from behind the scenes to centerstage. On Wednesday night, just a day after his post sent the industry into a tailspin, Roach made his debut as a model at the Boss fall/winter 2023 runway show.
The now-former celeb stylist joined Naomi Campbell, Pamela Anderson, DJ Khaled, and other big names on the runway at the Herald Plaza in Miami as they took on a windy and water-soaked runway in tailored suits. But don't think Roach left his old gig behind to become a model. It doesn't seem like that's necessarily the case.
"In my mind, you know, I [made my statement of retirement] just to relieve some pressure for myself," Roach told Vogue ahead of the show. "That Instagram post wasn't a PR stunt. It was really me giving myself the grace to say: It's okay. You can do something else."
Roach didn't speak on "the politics, the lies, and false narratives" he referenced in his Instagram post, but he did say he is done "being in service and at service of other people."
As for what that "something else" is, Roach himself is still figuring that out. The decision to post on Instagram was fairly impromptu—Roach made it on Tuesday as he was riding in a car. Now, the decision of where to go next will likely take more time. Though Roach has ideas. There's modeling of course, a skill he has seemingly taken to quite well. "I plan on doing other things," he said, like teaching. "I want to be more involved with people who look like me who want to figure out how to have the opportunity to do things that I've done." Roach felt his career was becoming his legacy, which he wasn't happy with. Instead, he wants to be known for uplifting others through teaching. "I want that to be my legacy, a legacy that I really helped change people's lives—and not just the celebrities' by putting them in the best dress, you know?"
So, no Roach isn't retiring from fashion. "I love fashion. I love the businesses, and I love being creative," he said. But his days as a celebrity stylist are over. Of course, that excludes Zendaya, who he confirmed he will continue to work with on Wednesday. "She's my little sister and it's real love not the fake industry love," he wrote on Twitter.
That still leaves room for editorial styling—a skill he has utilized for W more than once. Roach is also the West Coast editor of British Vogue and will likely continue in that role as well. And then, there's also modeling. The point is, we aren't saying goodbye to Roach all together, we're just saying goodbye to the Roach we thought we knew and making room for something more.