Jeremy Scott's Most Memorable, Over-the-Top Looks at Moschino
From Katy Perry's chandelier dress to Gigi Hadid's gilded harp gown, the designer infused the Italian house with a sense of humor.
---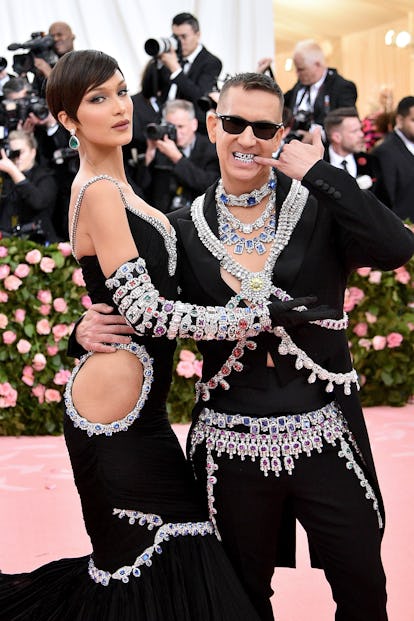 Photo by Theo Wargo/WireImage
In fashion, nobody seems to have more fun with style than Jeremy Scott. It was evident in his namesake label which he launched in 1997 and most famously at Moschino where he served as creative director from 2013 until March 20, 2023 when he announced he'd be leaving his post. A Kansas City native, Scott spent his formative years on a livestock farm in Missouri before hightailing it to New York City for college to attend the Pratt School of Design in 1992. During his senior year, he actually interned for Moschino's public relations department before decamping to Paris where he'd debut his eponymous line. But it was in Milan where he'd end up making his biggest splash. With his appointment to the top creative post at Moschino—a role previously held by Rossella Jardini for nearly 20 years—Scott brought his keen eye for Pop Art and provocation. In Scott's world, nothing was off-limits: bubble wrap, pool floats, baby bottles, and trash bags were all fair game as textiles and accessories. His presentations—often outrageous but always imaginative— were a reliable source for a smile each fashion month. Take, for instance, fall 2014's ode to SpongeBob Square Pants; spring 2016, when Bella Hadid wielded a supersize Windex bottle that actually held Moschino's new perfume; fall 2022, which saw models like Gigi Hadid and Jan Baiboon transformed into furniture, and spring 2016, in which one of the models wore a sign that read "Car Wash" in glittering lights. Who could forget Nicki Minaj's bondage-inspired look from the Manus x Machina Met Gala in 2016, or Katy Perry turning into a full chandelier and cheeseburger on the pink carpet three years later? To pay homage to Scott's sprawling oeuvre, we've put together some of the inventive and over-the-top looks from the designer's 10-year tenure at Moschino. See all the greatest hits, below.