Jessica Chastain Went Platinum Blonde in Honor of Karl Lagerfeld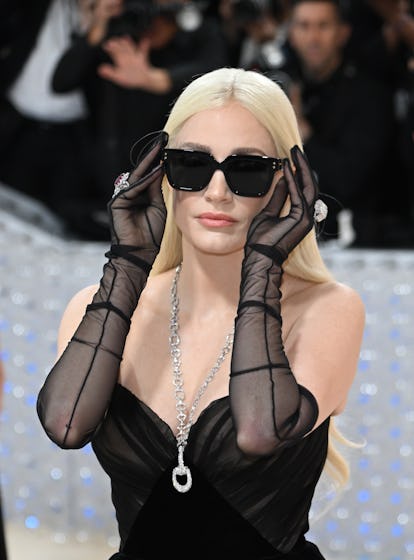 Noam Galai/GA/The Hollywood Reporter/Getty Images
No, that isn't Gwen Stefani. Or Kristen McMenamy. It's not Anya Taylor-Joy or Lady Gaga. That's Jessica Chastain, newly platinum blonde and on the Met Gala red carpet. The actress debuted an icy new look for the 2023 Met Gala, seemingly paying homage to the man of the hour, Karl Lagerfeld, who was known for his white hair.
Chastain arrived to the Metropolitan Museum of Art in a black Gucci gown featuring a sheer, gathered bodice and a layered skirt, with a train that followed her as she walked up the steps. The actress paired the piece with sheer black gloves, large cocktail rings, and a long diamond necklace. She also wore a pair of aviator sunglasses, another likely homage to Lagerfeld, who often hid his eyes behind a pair of shades. Between the new hair and glasses, Chastain remained fairly incognito on the red carpet.
While Chastain has gone blonde for plenty of roles in the past, she has always been a redhead on her own time, so this change is quite notable. For those who are into the look, however, you may be disappointed to hear that it's just a wig. The actress is currently starring in A Doll's House on Broadway, so she likely didn't have the time that it would take to permanently dye her hair blonde, nor to go back to her normal hue afterwards.