Joan Collins and Naomi Campbell Prove It Takes a True Diva to Pull Off Schiaparelli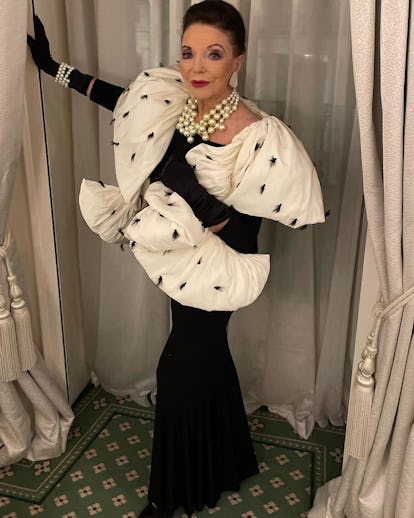 Instagram/@joancollinsdbe
When Daniel Roseberry throws a Schiaparelli party, you know only the most fabulous attendees will be invited, so it was no surprise when some of the biggest names in all of the United Kingdom gathered at Harrods in London on Tuesday night to celebrate the opening of the latest Schiaparelli boutique. Of course, the event was made even more glamorous thanks to Roseberry's designs, which adorned every last one of the VIP guests.
Notable attendees at the event included, Naomi Campbell, who has been wearing the brand quite a lot these days, most recently at the Vanity Fair Oscar party earlier this month. Game of Thrones stars Emilia Clarke and Gwendoline Christie were also in attendance, as was Naomie Harris. The most notable guest, however, was likely Dynasty star Dame Joan Collins.
The British actress looked every bit of the diva she is in a custom Schiaparelli look featuring a black, off-the-shoulder dress, black satin cloves, and a voluminous white shawl decorated with black feathers. Pearls covered her neck and wrists, turning Collins into an excessively chic Cruella De Vil, or maybe more accurately, Alexis Colby. Campbell, meanwhile, wore a custom look as well in the form of a velvet blue halter neck dress with a chain detail and blue flower on the top. A pair of the brand's surrealist gold-toed heels completed the model's look.
The other guests' ensembles deserve their moment in the spotlight as well. Christie wore a gorgeous belted black coat with gold buttons while carrying the brands Bijoux Secret bag. Clarke wore a spring/summer 2023 belted shirt dress featuring a cone-shaped bust and voluminously-hemmed sleeves. Basically, everywhere you looked there was gold accents, quirky adornments, and surrealist touches. It was a Schiaparelli fete, no doubt.