Julia Fox Turns Business Casual on Its Head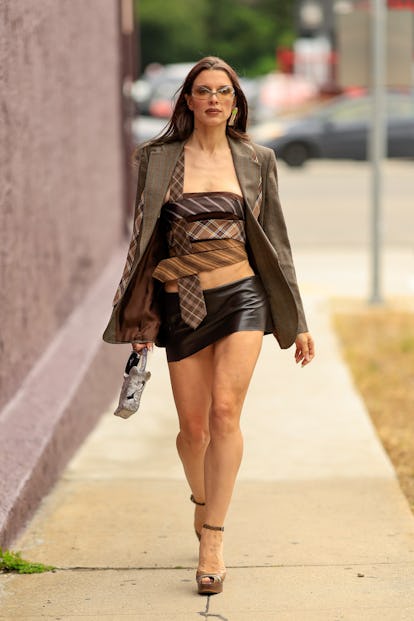 Rachpoot/Bauer-Griffin/GC Images/Getty Images
Julia Fox is never one to shy away from a major style moment—remember the bra-underwear-denim ensemble she wore to grocery shop? Or her ultra cut-out mini dress? And while the actress, mom, and model is more accustomed to the locales of Downtown New York, she took her fashion prowess to the streets of Los Angeles—and judging by her latest look, she just might have a work meeting scheduled for later in the day.
Though the weather is heating up in LA, Fox is a proponent of all-year mini dressing, so its no surprise that her daytime look featured a shortened silhouette. She opted for a black mini skirt (a staple in many of her outfits) and a beige wide-shouldered blazer. But the true star of the show was Fox's Jaded London top, which consists of a handful of intricately placed tartan ties that wrap around the body.
Though ties have long been reserved for mundane menswear outfits, they have recently become a mainstay in the womenswear lexicon of late. Valentino's recent fall 2023 show was an entire ode to the classic black tie. Brands like Ferragamo, Thom Browne, and Chanel have also tried their hand at the fad, each offering unique interpretations of the age old accessory. Fox's weaved top does just that, flouting the tie's traditional neck placement for a bustier-style overlay.
The 33-year-old accessorized her outfit with a ceramic mini bag and platform heels that perfectly accented the color scheme of her ready-to-wear. Up top, she went with clear angular shades and, in true Fox style, one Bic lighter earring. For those of us who can't seem to tie that perfect tie, Julia Fox might have just found a solution.