Black Tie, Valentino's Way
Pierpaolo Piccioli's fall 2023 collection explored—and reinterpreted—every inch of formal dressing.
---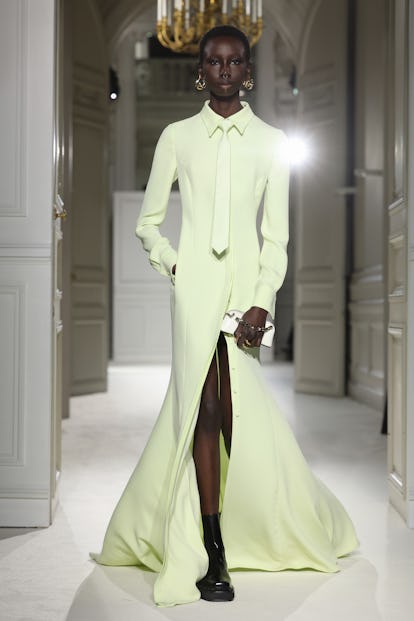 Valentino fall 2023. Photo by Pascal Le Segretain/Getty Images
Since Pierpaolo Piccioli took the helm at Valentino in 2016 as the sole creative director, he's more than proven he's a master of stunning gowns, red carpet-worthy formalwear, and all things black tie. (You only have to look at Zendaya's 2023 SAG Awards gown to see that—designed custom by Piccioli, the pastel-pink silk duchess dress was covered in 190 blooming silk rosettes.)
Fall 2023 got to the heart of what black tie can be now. The 73-look collection explored nearly every corner of formal dressing: the little black dress, a modified tuxedo suit, the crisp white button-down, or an evening jacket—all occasion staples—were subverted here.
Piccioli excelled in transforming these classics, making them new objects of desire that felt different enough to warrant a second glance. We've all seen the white button-down with a twist, but not yet from Piccioli's point of view. For example, the cuff of a white button-down shirt was blown up and supersized. A blazer was covered in massive checkerboard prints with big shoulders. The ballroom skirt? Who needs that when you have a mini skirt entirely covered with sequined flowers?
A striped black-and-red sweater layered over a collared blouse with feather-embellished boots and a little black bag also showed that black tie doesn't always have to be strictly formal. In 2023, anything goes: a cascade of red bows covering a blue shirtdress or a floor-length sequined pink coat are all fair game. Some combinations, like polka-dot blazers with no pants, felt like they catered a little too much to current trends—but that said, there was truly something for everyone in this collection. Black leather coats with contrasting chevron stripes undoubtedly appeal to those who favor all things classic, while ultra-mini ruffled dresses are for the bold.
After a few seasons of models—including the legendary Kristen McMenamy—falling, tripping, stumbling, and reaching out for help in poorly designed, towering heels, Valentino put every model in pairs of sensible-but-dramatic flat leather boots or low kitten heels. It was a relief, and a much-needed change of pace.
One could call fall 2023 the season of style signatures: At Saint Laurent, there were the oversized, big-shouldered blazers; Dior's midi skirts dominated its collection. At Valentino, a skinny tie topped off almost every single look. This was proof of concept of personal style, but it also showed the power of a great, unexpected accessory that added a layer of personality and structure. With the rise of less and less jewelry at awards shows as we enter a new era of stealth wealth and neo minimalism, could the skinny tie be the new necklace on the red carpet? Stay tuned, because with Valentino's red carpet wins, all signs point to yes.